Caring Currents
Gone But Not Forgotten: Rituals That Honor the Dead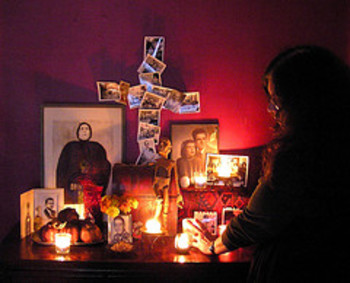 All Rights Reserved
In a recent radio interview, author Francine Prose observed that no matter how prepared you are for a parent's death, you're never really ready, and the loss is far more painful than you ever imagine.
In modern society, the death of a parent, close relative or friend can be particularly searing because its often such a lonely experience. When the memorial service is over and the casserole dishes have been washed, mourners are left to their own private grief, and the dead drift into the realm of fading photos and stale reminisces. We have few rituals that help us remember our loved ones, or celebrate their lives and contributions in an ongoing way.
This occurs to me now because in San Francisco's predominantly Latino Mission district, near where I live, preparations are beginning for the "Day of the Dead" (Día de los Muertos). This Mexican holiday combines both indigenous and Catholic traditions and is celebrated on the 1st and 2nd of November.
In Mexico, Day of the Dead celebrations vary from region to region, but almost always include alters for the dead and family gatherings -- often at the graves of dead relatives. In San Francisco's Mission neighborhood, bakeries sell sugar skulls, and shops are filled with skeleton figures in a variety of costumes and poses. Elaborate, colorful altars are erected throughout the Mission and include photos of the dead, as well as food and other mementoes.
I'm fascinated by the attitude the Day of the Dead reflects toward death. In Western culture, we tend to view the dead as remote figures, to be honored in hushed tones. But Day of the Dead celebrations are not somber or sad: the festivities are, well, festive, and the ubiquitous skeleton figurines are playful, even mischievous. Day of the Dead celebrations beckon dead relatives near by feeding and feting them with music, their favorite foods and other gifts, including toys for dead children, and cigarettes for former smokers. For those who've recently lost a loved one, the rituals and get-togethers ease the grieving process by turning it into a communal event.
Some people I know adapt these rituals to honor their own dead. A friend who lost both parents within six months of each other, for example, has devoted a small corner of her apartment to a shrine for her parents. There she keeps photos of her parents and other items, including the candlesticks that were always a feature of the family dining table, and her mother's jewelry. Two years later, she still gets teary when she talks about her parents, but says the shrine helps keep them close.
Another friend recently threw a party on the anniversary of her husband's death. The party wasn't morbid or melancholy, even though everyone was mourning the loss of a beloved friend, husband, father, and son. Friends shared food, mementos, and memories with my friend and her family.
Some of you have developed you own ways of remembering relatives. A member of one Caring.com community discussion group planted redwood trees for each of her parents after they died, for example. Another reports that her sister got a guitar tattoo to honor her musician father.
If you have special ways you remember and celebrate your loved ones, I'd like to hear about it.
Image by Flickr user KarenMarleneLarsen, used under the Creative Commons Attribution license.