Caring Currents
Watermelons for Healthy Living -- and Loving
Last updated: Aug 14, 2008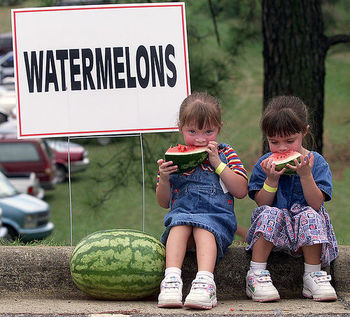 After weeks of scorching summer weather, you may find that your elderly loved one doesn't have much of an appetite – and that you don't have any interest in toiling in the kitchen. The answer isn't ice cream -- at least not for every meal.
Instead, slice up a watermelon. It turns out that watermelons aren't just delicious, refreshing, and easy to consume when the temperature's high, they're also packed with nutrients that can improve everything from your immune system to your love life.
Scientists at Texas A&M have been studying watermelons for years, and, says one, "We've always known that watermelon is good for you, but the list of its very important healthful benefits grows longer with each study."
According to AgNews,Texas A&M's website, watermelons contain phyto-nutrients, including lycopene, beta-carotene and the less well known phyto-nutrient, citruline. Scientists are just beginning to understand the benefits of citruline, but they've found that in the human body it's converted to the amino acid, arginine. Arginine in turn relaxes blood vessels, which improves circulation, and can help people with heart problems, obesity, and diabetes.
Arginine's ability to relax blood vessels may also improve impotence problems: Scientists say it acts like Viagra -- without the side effects.
That's not all: It turns out that deep red varieties of watermelon contain even more of the anti-oxidant lycopene than tomatoes do. Lycopene improves heart, prostate, and skin health. Watermelons also can help with hydration since they are 92 percent water.
So give your elderly relatives watermelon for a mid-afternoon treat. For an easy meal on a hot August night, serve watermelon with a salad, cold cuts, and a loaf of fresh bread. Or check out these watermelon recipes at the foodnetwork.
Image by Flickr user foreversouls used under the Creative Commons attribution licence.