Caring Currents
Bone Health Alert: Are Low Levels of Vitamin D Putting You at Risk?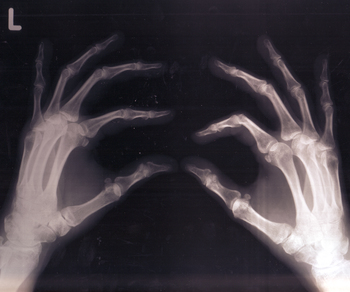 All Rights Reserved
Yesterday the International Osteoporosis Foundation (IOF) issued an alarming report announcing that vitamin D levels are at dangerously low levels across the globe, increasing the risk for osteoporosis and bone fracture, particularly for older women. The study, to be published in Osteoporosis International, tested population groups around the globe, and found that in almost all geographic regions an enormous proportion of the population has insufficient levels of the key nutrient.
The numbers in the report have experts talking. Among men ages 70 and up, 76 percent of whites, 88 percent of hispanics, and 93 percent of black men had too little vitamin D in their blood; among women, the numbers were comparable except that 95 percent of black women tested too low. Previous studies had put the percent of the population that was D-deficient around 40 percent, so these numbers are quite a revelation.
The reason this is raising such a cry of alarm is that in recent years, experts have concluded that vitamin D protects the bones, the heart, and even appears to prevent cancer.
Lack of vitamin D puts bones at risk because vitamin D helps bones catch and hang on to bone-building minerals like calcium and magnesium.
Studies have tied low levels of vitamin D to a higher incidence of breast, prostate, colon, and ovarian cancer. Experts are still trying to understand the connection, but last month researchers at the Moores Cancer Center in California suggested in a study that when levels of vitamin D are too low, it disrupts healthy communication and turnover among cells, allowing rogue cancer cells to take over.
According to the report, risk factors for having insufficient vitamin D include:
"¢ Older age (according to the report, vitamin D levels declined in each age group tested)
"¢ Living in a lower (northern) latitude
"¢ Winter/lack of sunlight
"¢ Being dark-skinned
"¢ Consuming less dairy
"¢ Spending most of your time indoors
"¢ Wearing clothing that covers the skin
Preventing Vitamin D Insufficiency
So how much vitamin D do you need to maintain a healthy level in your blood? The U.S. Recommended Daily Allowance (RDA) for vitamin D is 400 iu for those between 50 and 70, and 600 for those over 70. Most experts believe it will soon be raised to at least 1000 ius; some are pushing for 2000. Since it's not easy to get this much vitamin D from food, supplements are the way to go. Look for vitamin D3, also called cholecalciferol (the type of vitamin D used in most research) which is easier to absorb.