Caring Currents
Universal Design Part 2 -- Breaking the Ice
Last updated: Aug 12, 2008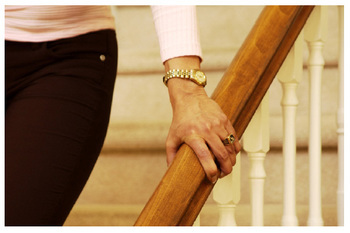 Last week I wrote about universal design, a set of architectural and design principles that can make aging in place safer and more comfortable for seniors.
But first comes the tricky part -- getting your parents to sign on. It may seem like a no-brainer -- if they want to remain in their own homes as long as possible, why not make some simple changes that will up the likelihood of making that wish a reality?
But for many parents (mine included) a wall comes down when you start talking about making any kind of change to the status quo -- especially changes that have to do with accommodating the realities of getting older.
"Having a conversation about changing needs is harder than a conversation about death," says Elinor Ginzler, Senior Vice-President for Livable Communities at the AARP, citing focus group findings indicating that seniors would rather plan their own funeral than plan for when they can't make it up the stairs.
Talking about a topic like universal design, she points out, is "asking them to look forward, and recognize that they may not be as high-functioning as they are now."
It's not easy, but Ginzler, the co-author of Caring for Your Parents: The Complete Family Guide, offers some gentle approaches for introducing universal design concepts to seniors without triggering fears and defenses. Here's one to start with:
"Dad, I need your help." Parents have an ingrained instinct to respond to this plea. So instead of framing changes to their home as "for their own good," ask them to do it for you. Ginzler suggests this sample script:
"Dad, I know you can take care of yourself -- you've proven it throughout your life -- but you know me, I'm a worrier, and I need your help. I can't sleep at night thinking about you falling down the stairs. Do me this favor and let me put a second handrail on the stairs so I can sleep at night."
This tip resonated with me immediately. I've been advocating that my 87-year-old father -- who's got degenerative disc disease, arthritic knees, and walks with a cane -- get a second banister ever since I saw what a difference it made when he used one during a short stay at a skilled nursing facility. But whenever I've brought it up, he's offered the same answer -- he'll "cross that bridge when he comes to it."
The truth is, I do lose sleep over this -- my fear is that he'll "cross that bridge" by falling down the stairs. So I'm definitely going to try Ginzler's approach, and let you know what happens.
Why not do the same yourself? If there's a renovation -- or any kind of home safety improvement -- you've been wishing your parents would try, try "asking for help," and let us know how it goes.
And check back next week for more  tips on opening your parents' minds to universal design concepts that can change not just their homes but the rest of their lives -- and yours.
Image courtesy of MySafeHome.org.