Caring Currents
"Universal Design" Helps Seniors Age In Place With Grace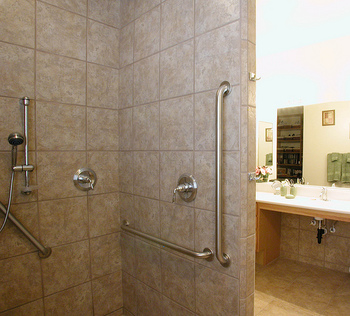 All Rights Reserved
Today, there are more than 35 million Americans 65 or over. Over the next 25 years, that number is expected to double.
Where will these millions of seniors live? Contrary to myth -- or anxious expectation -- few will retire to gated communities in Florida or wind up in nursing homes. The great majority, according to researchers, will stay right where they are.
Aging in place -- or, as it is coming to be called, "aging in community" -- is the wave of the future, not to mention the present. But if your parents are among the millions of seniors who plan to live out their days in the family home, that doesn't mean that nothing has to change. The home you grew up in -- running up and down stairs, racing through narrow hallways -- isn't going to cut it as the parents who took care of you start needing more care themselves.
What to do? One increasingly popular answer is universal design -- a set of architectural and design principles that evolved post WW II for returning veterans and the disabled and are now being repurposed for older Americans. Architects and contractors are increasingly turning to universal design principles when they build or remodel so that the home works for everybody, whatever their age or level of mobility.
A universal design home might include anything from extra-wide door frames for easy wheelchair passage to no-step entries to levers instead of doorknobs -- even grab bars that masquerade as towel racks for those who don't want any sign that their home is out of the ordinary.
Developers are building new homes using these principles and getting a 10-20 percent premium on the selling price. Meanwhile, "Certified Aging In Place Specialists" can remodel a kitchen, bathroom, or entire house using universal design principles. You can do it all at once, or in bits and pieces (if it's time for a new toilet, why not install a higher one?).
Universal design is worth looking into with your parents but also if you're considering a kitchen or bathroom remodel yourself. None of us are getting any younger, and it will likely increase the resale value of your home.
Want to know more about universal design? Stay tuned for an interview with an aging in place specialist, advice on how to talk to your parents about making their home fit for the future, and tips on affordable changes you can help them make now -- and how to finance the bigger-ticket items down the line.
Image by Flickr user NancyHugoCKD.com used under the Creative Commons licensing agreement.