Caring Currents
A Toast to Aging Well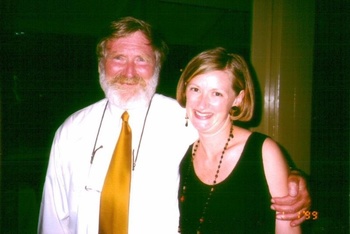 All Rights Reserved
I called my dad this afternoon to wish him a Happy 75th Birthday.
Since he's in Sydney, Australia, it was morning for him and he was delighted to tell me -- an avid exerciser -- that he'd just gotten back from the gym.
Yep, my father, who ran a busy medical practice and supported a family of eight, who rarely had time to scratch himself and never did much more than a weekly game of golf (well, he was a doctor) and an annual splash in his beloved Sydney surf, pumps iron and runs on a treadmill.
Who would have thunk it? He even got a personal trainer, no less, when he hit his 60s, retired, and all kinds of unfun health problems came to call.
Dad sounded especially sprightly over the phone line, like a little boy really, keenly anticipating his big birthday bash this coming weekend. I was reminded of my son, eagerly awaiting his own celebration on Saturday -- double digits! How did that happen? 
And, of course, I felt the sting of the whole sandwich generation dilemma -- caught between wanting to be with my family oh-so-far-away at my father's party and needing to be with my son at his own big deal event. Sound familiar?
Anyway, in typical Aussie humor, my father regaled me with details about his soiree. The guest list stands at around 100. "Well, Sare, there's about a 10 percent attrition rate at my age," he joked.  "We went to a funeral Tuesday, so obviously that friend isn't going to make it to my party," he deadpanned, with no disrespect for the dead."Our great cruising companion is having his foot taken off because of diabetes. Another friend's wife got hit by a car and has a broken hip, so she's out of commission, too," he told me, mentally running through the list.
He saved the best story for last.  His oldest mate (in this instance, he means longest-running friend, 73 years and counting) wrote to him to say he was unexpectedly unable to come. This is roughly what his letter said: "Remember when we were little kids, riding around on our tricycles and you slammed into mine and broke my leg? Well, ever since that day, my left leg has been shorter than my right.  And because of that, I've had to have a hip replacement now. And that's why I can't come to your party this weekend -- and it's your fault!"
You've gotta love old-guy humor. And it struck me, as we said our goodbyes, that my dad is a pretty good role model for how to live well during old age. He's active. He's found new interests since retiring (he's an avid gemologist, a kind of second career for him). And despite the who-knows-how-many pills he has to pop and the various afflictions that affect his daily life, his sense of humor is still intact.
So, Happy Birthday Old Man -- and a toast to many more to come.