Caring Currents
How Families and Friends Can Save Money By Trading Favors and Help
Last updated: Jul 31, 2009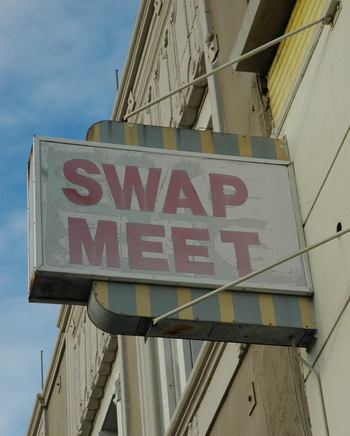 There's one positive thing you can say about a down economy: It spurs people to be creative and collaborative in their quest to save money.
Lately I've heard some great stories from friends who are trimming household budgets by trading goods and services either locally with family, friends,and neighbors, or through websites. In fact, I've heard about some family practices so clever they're worth sharing in hopes others will be inspired.
Often, these are an extension of the kindnesses families, neighbors, and friends have traditionally done for each other without thinking about it. But in today's busy world, formalizing such arrangements seems to serve everyone well.
This summer, two families I know made an interesting trade with their aging parents. The adult couple left their children with grandma and grandpa, and took their first-ever vacation alone together. Then, after returning, they went to visit the grandparents, sent the kids over to play at a nearby cousin's house, and spent a week doing all the house maintenance tasks that were beyond the grandparents' abilities. (In a previous post, I also wrote about ways families can take a vacation this summer without breaking the budget by combining forces in a number of creative ways.)
Of course, many people live far away from family, don't feel comfortable asking these types of favors from friends, or wish to trade services or goods that are less commonly needed. For these situations, there's a host of new web services springing up, such as Barterquest, which allows you to trade services and goods of all kinds, clothing trade site SwapStyle, and Freecycle, a free-for-all for stuff of all kinds.
Closer to the family model, there's the trendy new concept of timebanking. Using a website like Timebanks.org, groups of people in a particular town or neighborhood can set up a timebank. Every time one member does a task for another, he earns timebank dollars, These can then be used to "pay" other members of the bank to provide services.
To be honest, formal timebanking sounds a bit complicated for me right now. But the concept is a great one that we can apply to our local circle. Here, some ideas for time-trades that could save you money.
"¢ Do you know any seniors in your area who have trouble shopping or doing other errands? Offer to pick up what they need in return for occasional kid-watching, cooking, mending, or whatever they have to offer.
"¢ Do you meet other dog owners at the dog park? Spread the word that you're looking for someone to trade dog-sitting with. If the two dogs know each other and get along, that's a big plus.
"¢ Save the high cost of pet- and house-sitting. Several families I know who travel a lot have set up a formal trade with neighbors whereby each family cares for the others' cats and garden each time they travel.
"¢ Do you need help with your computer or other technical equipment? Rates for the Geek Squad are really high. Chances are there's someone you know who could help. Offer to cook a week's worth of meals, proofread his college papers -- whatever it takes.
"¢ "Timebank" informally within your own local network. Before you open the yellow pages, think about whether there's anyone in your circle who could provide the help you need. Then ask if there's a service he or she needs -- chances are, someone you know can do it. Then think about what services you can offer in return.
"¢ Do you have teenagers? You're in luck; they're a great resource. Have them mow lawns and rake leaves, run errands, and do childcare in return for any services your family needs. In my neighborhood, one family has their newly licensed teenage daughter run errands for an elderly man who no longer drives; he, in return, takes care of their "handyman" needs.
"¢ Do you travel and have a comfortable house or apartment? Housetrading is one of the fastest-growing trends among travelers, with numerous websites devoted to connecting those who want an apartment on Manhattan's upper east side with those who'd love a lakeside getaway in the Midwest.
"¢ Do you have skills to offer? Think of ways to contribute on the "pay-it-forward" or timebanking model. The next time someone you know expresses a need you can fulfill, offer. A friend's aunt recently made a slipcover for her niece's armchair. My friend couldn't think of anything to do in return, but the aunt happened to mention she had some necklaces that needed to be restrung. I make jewelry, so my friend asked me if I could restring the necklaces. The next time I need a favor? You know who I'll be asking.