Caring Currents
RIP, Ted Kennedy--and Thank You
Last updated: Aug 28, 2009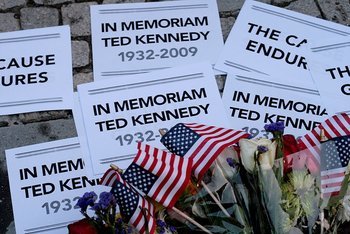 When Ted Kennedy was diagnosed with aggressive glioma, a brain tumor, he made up his mind to fight it. He had brain surgery to remove the tumor, although it's a risky choice and doctors knew all it would likely do was buy him time. He had chemo and radiation, also fighting for more time. And how did he use that time? Right up until the very end--when he would have been forgiven for retiring to be with his family--he continued to work doggedly for a national health care plan. News reports say he was still making phone calls, still briefing staffers on the most effective outreach efforts, in his last weeks, when he must have been a very sick man.
Two close friends of mine, a brother and sister, lost their father, also in his seventies, to a brain tumor last year. Listening as they described their dad's last days, when he could no longer eat, no longer see, and no longer walk, I tried to picture Kennedy in the same state, still working doggedly as a U.S. Senator, fighting for health care reform, now finally at the forefront of the national debate.
And I thought about what aging expert David Solie tells us is the dying's last concern: the legacy of what their lives meant to the world.. Ted Kennedy's legacy is that he believed, and acted on the belief, that all Americans should have access to adequate health care, whether they had the money to pay for private health insurance or not.
Health care experts like Len Lichtenfeld, president of the American Cancer Society, have spent the last two days paying tribute to Senator Kennedy and voicing their appreciation for all he did to push forward government measures to meet the desperate need for affordable health care and medical research. As Lichtenfeld put it, "Not only did he honor our cause with his commitment and his efforts -- he knew personally the travesties of the disease. How sad that he lost his life in a battle that has been shared by so many, and for which he had tried to do so much."
Right now, the national debate about health care is mired in controversy and legislative wrangling.
But whether you agreed with Senator Kennedy's stand or not, there's no question that he was an eloquent champion for legislation that would bring quality care to all. His loss has already been felt; we can only pray now that his legacy will bring reason and honor to what has become an all-too acrimonious national debate.