Caring Currents
Swine Flu Vaccine Coming Soon: What You Need to Know
Last updated: Jul 20, 2009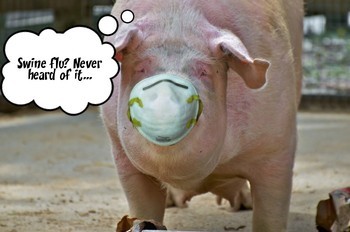 Swine Flu was back in the news last week with reports of so many cases spreading around the globe that the World Health Organization announced it's no longer going to keep count. Even more important was the news that a vaccine should be ready by fall, as government experts called for a super "fast track" approval process, with less safety and efficacy testing than usual.
The concern is that the H1N1 virus seems to travel most quickly and easily between children, and schools across the country reopen in late August. Health experts are concerned that a second wave of swine flu will sweep through the population as soon as kids are back in the classroom and in close contact with one another. But that leaves lots of questions. Here are some answers:
1. Who Should Get It: Experts predict that the first doses of the flu to become available are likely to be earmarked for babies and young children and pregnant women, as well as adults who are considered to be "at risk" for severe flu disease. This is somewhat vague, so talk to your doctor if anyone in the family:
"¢ has had pneumonia, bronchitis, or another infection from the flu
"¢ been immune-compromised, such as from cancer treatment
"¢ tends to get very ill from colds and flus and recovers slowly
"¢ is very weak
Here are some questions members of the Caring.com community are asking about the swine flu vaccine:
2. When it will be available: At the moment, the earliest prediction is September. But these first doses will be carefully controlled; it will likely not become available to the general population until October or November.
3. Where to get it: If you have medical insurance and a regular doctor, you'll get it from her. If not, public health clinics and general hospitals will likely dispense the vaccine, but it may be even later in the year, or may be restricted to children and pregnant women, at least at first.
4. Is it safe: Experts are saying that because it's based on the annual flu vaccine, it's just as safe, even though they are skipping some of the usual testing. However, they acknowledge they're having to do some guesswork on the correct dosage.
5. Do you still need a regular flu shot: Yes, if you usually get one. The swine flu shot protects against the H1N1 strain, but not against other strains.
This is a topic that's going to stay in the news for months, and I'm sure there will be more information forthcoming, so we'll revisit it in the future to keep Caring.com members informed.