Caring Currents
Slow Medicine: A (Not So) New Prescription For Aging
Last updated: Nov 20, 2008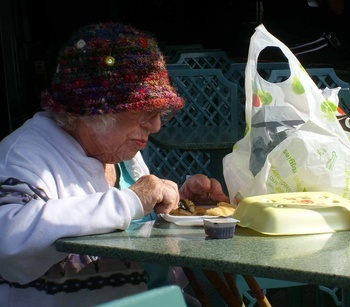 If you live in a food obsessed corner of the country, as I do, then you probably know about the slow food movement, which spread from Italy. Think local, sustainable, organic, good-for-you ingredients. Think a return to home-cooked meals, prepared with care from scratch. Think the opposite of, well, fast food.
So what, then, is the emerging philosophy known as slow medicine? Simply put, it's a less aggressive -- and less costly -- approach to medical care for the elderly than the status quo. Fewer hospital stays. Less risky interventions. Comfort over cure. It's about the opportunity to choose quality-of-life over quantity-of-years for folks entering their twilight days (typically those 80 plus).
In other words, more is not necessarily better.
When we imagine the best medical treament, we think of doctors pulling out all the stops in sleek hospitals, using life-saving, high-tech gadgets and risky experimental procedures on TV shows like ER and Grey's Anatomy. But this approach tends to be industrialized, impersonal, disease-focused -- and fiction.
What medicine doesn't do so well at is the more ordinary and everyday care and support of seniors -- and the families who look after them -- dealing with the inevitable complications of aging, acute illness, and chronic disease.
Enter gentle geriatrician Dennis McCullough, who coined the term slow medicine. McCullough, who has three decades of medical practice under his belt, hopes to reinstate a more measured, compassionate type of care for the elderly, in the way that slow food icon Alice Waters made it cool for kids to eat their greens. Ironically, slow medicine is a concept that could catch on fast.
A member of the Dartmouth University Medical School faculty, McCullough is the author of My Mother, Your Mother: Embracing "Slow Medicine," the Compassionate Approach to Caring for Your Aging Loved Ones. He maintains that excellent chronic care attends to the day-to-day needs and conditions of an older adult by offering emotional support and social stimulation, supplying better nutrition, tending skin and nail conditions, and making sleeping, moving, bathing, toileting, and dressing easier.
Sounds great in theory, right? Who wouldn't want such an agenda for a family member? A game plan for living well, in the time that an elder has left, instead of a protocol for getting ready to die.
Like slow food, slow medicine isn't a quick fix. It's very premise is based on the idea that caregivers are willing to do the labor-intensive work -- the equivalent of tending the fields, picking the crops, and chopping all those veggies -- to protect an elderly relative from the excesses of interventionist modern medicine.
To that end, McCullough is a fan of an "advocacy team" of family to help protect the wishes of an ailing senior and a wider "circle of concern" of relatives and friends called on for steady support during hard times.
How else might slow medicine work in practice? In his book McCullough covers the territory -- stations, he calls them -- from stability, when an aging parent is still vital and lively, all the way through to end of life, with stops along the way addressing crisis, recovery, and decline.
He advocates slowing down decision-making and considering forgoing tests, procedures, medications, and surgeries that may be too taxing for an elderly body. High blood pressure pills can be life-saving at 75 but may cause problems in an older adult and lead to a life-changing fall. A surgery may trigger a stroke for a frail elder who wants to live at home but must then be moved to a nursing home. And so on.
Of course, adult children instinctively may want to try everything to keep a parent alive or help her recover from an acute or chronic illness. But as McCullough points out, this fast-track approach may not be in the best interest of the elderly and often doesn't take into account the whole person -- mind, body, and soul.
To that end, some final advice from the good doctor about where to begin. Start by having conversations with a parent or other older family member about how she might like to live out her remaining years. Bring an open heart and listening ears to the discussion. How does that sound to you?
Photo by Flickr user pink_fish13 used under the Creative Commons Attribution license.