Caring Currents
Sex for Life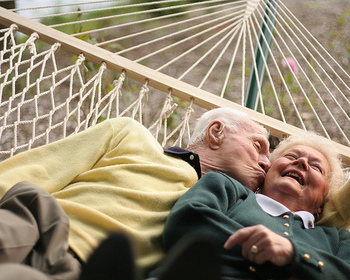 All Rights Reserved
Many young people assume that sex is one of the many things you give up as you age, along with late night parties and extreme sports. This was probably never the case, but it's certainly not true today, as people are living longer -- and healthier -- and have access to Viagra and other performance enhancing drugs.
Consider the following:
A study published in the New England Journal of Medicine found that a majority of older adults are sexually active and consider sexual intimacy an important part of life.
The topic of sex and aging is becoming part of our popular culture. There are a number of new books on the subject, for example, including Better Than I Ever Expected by Joan Price, who writes a lively blog with the same name. And the movie, "Away From Her," starring Julie Christie, explores the issue of romance between Alzheimer's patients in a nursing facility.
The good news is that there's evidence that sex – when precautions are taken -- has a variety of health benefits, so if your parents are getting it on, it's probably enriching their lives on a number of levels. The bad news? According to the Centers for Disease Control, older people are at increasing risk for HIV/AIDS and other sexually transmitted diseases.  Many physicians neglect to talk to their elderly patients about using protection, because they assume they're no longer sexually active.
That suggests that if you have a parent who's divorced or widowed and returning to the dating scene, when you finish talking to your teenager about safe sex, you may want to give your parent a call. 
Would you?
Image by Flickr user Adwriter, used under the Creative Commons licencing agreement.