Caring Currents
10 Tips for Better Sex After 50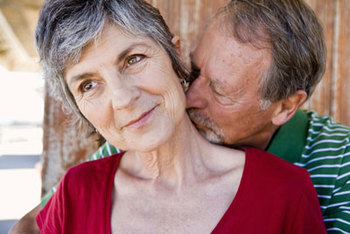 All Rights Reserved
Sex in the second half of life is fascinating. Many women in their 60s and 70s are having the best sex of their lives, whereas some women over 50 feel that they've lost their libido. Everyone thinks the reason is because they're going through menopause, but that's not it. The truth is, the old way of having sex leads many women to lose their libido. They just need to rethink their own brainwashing!
Ask for what you want. Most of their lives, women are taught that their job is to get a man up and get him off in as short a time as possible. Women think it's not about them at all. But when they finally decide that they can ask for what they want, they realize to their amazement that men are more than willing to provide it. By rewiring their sexuality in this way, women discover that they are orgasmatrons and they just never knew it.

Focus on your pleasure to enhance his. A man's body responds to a woman's pleasure. In fact, a man can often get as much or more pleasure out of pleasuring a woman in a genuine way than he does just with getting up and getting off. That's when the prolactin in men really rises. I have seen men who are on erectile dysfunction drugs, who needed them, able to get off them when their wives finally put their own pleasure first.

Take the time you need. Too many women fake orgasm simply because they feel they're taking too long. That's why I say in my book, The Secret Pleasures of Menopause, that you literally need to put this on your calendar: Set aside time to explore your sexuality. Then both you and your partner will be able to get in a different state, a theta state, a delta state--a very, very entrained, healthy state loaded with nitric oxide.

Use plenty of lubrication. If you're experiencing painful sex, the solution may be as simple as needing more lubrication. Get a whole bunch--spit may not be enough.! It can be as simple as KY Jelly at any drugstore. I have to laugh--they've invented a warming formula now. Those are fun. Try all those things.

Consider vaginal estrogen. If lubrication isn't enough, talk to your doctor. Some women have thinning of the vaginal tissue and they simply need three or four more layers of cells there, which you can get back in a week or two with a little vaginal estrogen. Vaginal estrogen can be safely used even if you've had breast cancer. The most locally potent is called Estriol, available by prescription from a formulary pharmacy. It's a very simple solution--there's no need for women to suffer like that.

Wake up your clitoris and G-spot. Women have as much erogenous erectile tissue in their pelvis as men do in their penis; it's just all inside and no one teaches them this. All that tissue is created for pleasure and to create increased nitric oxide and you can learn to wake this area up. Read Tantra: The Art of Conscious Loving, which has instructions for massaging the G-spot. Practice with yourself twice a week. The male partner can also help with this--it's a whole new world that couples can get into together and the man never even has to have an erection.

Get your Vitamin D levels checked. Think of libido as life force. Eventually, batteries get drained and need to be recharged. You may recharge by going away for a spa weekend, spending time with girlfriends, sitting in the sun. One specific thing you can do as well is to get your Vitamin D level checked. Vitamin D helps mood. It's the sunshine vitamin. D levels should be 60 to 80, but many women are dreadfully deficient; I'm willing to bet that in over 50% of women, it's going to be 24. That's way too low.

Get enough sleep. This is very important. Get plenty of rest so your batteries are charged whenever they need to be--even when your partner reaches for you in the middle of the night.

Experiment with different activities to awaken your sexual energy center. Words are very potent for women--our bodies respond to them. It's standard biofeedback. So enjoy romantic and erotic fiction, both alone or even enjoy together as couple. You can also try a women-only art of strip tease class, S-Factor pole dancing or belly dancing.

Become a new partner. As you're rethinking your relationship to sexuality, understand that most men follow directions. You need to take the inititive and make it happen. Don't get caught down the rabbit hole of "Oh, my libido's going away and that's it for me." The number one predictor of good midlife libido is a new partner. So, become a new partner!
Internationally known for her empowering approach to women's health and wellness, Dr. Christiane Northrup is the author of groundbreaking books such as Women's Bodies, Women's Wisdom, and The Wisdom of Menopause. Special to Caring.com from VibrantNation.com, an online destination where women 50+ exchange information and join in smart conversation.