Caring Currents
Federal Initiative Brings Nursing Home Patients Home
Last updated: Dec 16, 2008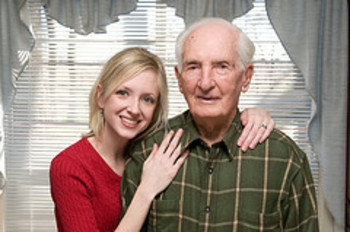 It's that time of year, my husband and I joke nervously as winter and the holidays approach. Nursing home time.
The last two holiday seasons have found my 88-year-old father in skilled nursing facilities, following emergency-room stints for various age- and season-related ailments. He's got emphysema and arthritis, and winter means flus that can lead to pneunomia, and weather that ups the risk of falls or driving accidents.
By the second time around, the hospital-to-nursing-home trajectory seemed crushingly familiar: the meetings with the hospital discharge planner, the visits to tinsel-draped nursing facilities, and then the long, slow car ride with my father dozing in the passenger seat as we took him to the last place on earth he wanted to be.
As soon as we got him settled in to the half-a-room he was to call home for the holidays, he'd start complaining loudly and lobbying for his car keys. And really, who could blame him? Researchers who've surveyed the over-sixty set have found that they fear winding up in a nursing home more than they do death itself.
Despite that, the way current funding streams are structured, if you need extra care after a hospital stay, a nursing home is usually your only option -- even if it might be cheaper, and a lot more pleasant, to receive similar supports at home.
But this holiday season brings some glad tidings. On the home front, my dad is doing just fine -- no ER visit or nursing home stint on the horizon (fingers crossed). And on the policy front, Connecticut has just joined several other states in a federal initiative with the evocative title "Money Follows the Person" (MFP) that, should it become the norm nationwide, could save my dad and lots of other frail elders from unwanted nursing home stays -- and save taxpayers money.
The MFP initiative is designed to support seniors at home, paying for things like in-home caregivers and wheelchair ramps. In Connecticut, it costs the government just over $1,000 per month to support an elderly person at home, compared to about $5,500 in a nursing home. The state estimates that 700 seniors and others with disabilities who are currently living in nursing homes will actually move home (their own, a family member's, a new apartment or assisted living) as the initiative is implemented.
The program got its impetus in 2005, when a Southbury, Connecticut, resident named Joseph Stango, who wanted to bring his nursing home-bound mother home to live with him, became discouraged (just as I was) by the fact that the government would spend thousands of dollars for care she didn't want in a nursing home, but wouldn't help him give her the care she did want at home. He took her cause to state legislators, and over a three-day campaign, collected 700 letters of support from elders and their children.
The upshot? Connecticut was awarded a $24.2 million federal grant to broaden the use of government funding in the home setting. This month, the first nursing home patients will start enrolling in the program, and packing their bags for home.
The first time my own father was in a nursing home, he was so rattled that -- still recovering from pneumonia and heart problems complicated by emphysema -- he checked himself out against doctor's orders, leaving me to scramble to meet his needs at home.
The second time around, I saw what was coming. As soon as the words "get me out of here" left his lips, I started making arrangements for home care -- knowing, again, that we were entirely on our own.
Being old and sick is scary enough as it is. Forcing ailing elders to stay in nursing homes when they've told us they'd rather be dead, and there are other, cheaper options….well, most of the rest of what my dad had to say about it isn't fit for print.
During the Connecticut campaign for MFP, the local Catholic bishop went on record describing home care as a "basic human right." I'm with him -- and I'll be watching that state's MFP roll-out with one eye as I keep the other on my dad during this risk- and thanks-filled holiday season.
Image by Flickr user Michael (mx5tx) under a Creative Commons attribution license.