Caring Currents
"Wings" For Frail Seniors Who Can't Travel On Their Own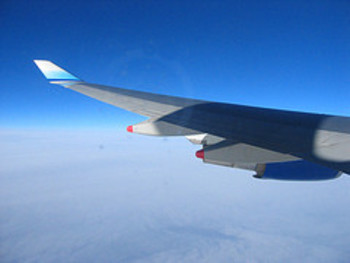 All Rights Reserved
I have a good friend whose mom hops on a plane every summer to visit her. Or did. For the first time my friend doesn't want her 80-plus mom flying alone, feeling her health simply isn't up to it. She still wants her mom to visit, and her mom wants to come -- and she probably can.
There are several ways to help frail seniors travel. Most aren't what I'd call super budget-friendly, but they'll allow your parents to get up and go -- worth every penny, for some.
With senior travel escort services, you pay a trained caregiver to fly (or go by rail) with your parents. The amount of help the escort provides during the rest of the trip can be negotiated. They're easy to find on-line using key words like, "senior travel escort," "senior check in and travel," and "senior travel companion." It may help to add the name of your parents' town. Advantage: One-on-one care. Disadvantage: Pricey. The client usually pays the escort's air fare and an hourly salary (around $10 to $25) for travel time .
Ask friends or family to travel with your parents, especially teens or other (more able-bodied) seniors who aren't locked into a work schedule. Advantage: The comfort of someone you and your parents know. Although you pay their airfare and maybe some pocket money, a salary usually isn't expected. Disadvantage: Can be hard to find someone. Plus you and your parents will have this guest for the entire trip (which could be a positive or a negative).
Find out what the airlines offer. Most airlines provide some free assistance to seniors or people with disabilities, such as escorting them on and off the plane, helping with their carry-on luggage, and providing wheelchairs at the airport. Advantage: It's free. Disadvantage: Limited to certain tasks or services; impersonal service.
A traveling nurse escort can accompany the sick or very frail. Do an on-line search using terms like "traveling nurse escort," "nurse travel companion," or "flight nurse." Advantage: Skilled medical care at your parents' side. Disadvantage: Super pricy. Makes sense only when there's a medically compelling reason.
You escort your parents. Advantage: It's all in the family. Disadvantage: Takes time and money.
My friend and her mom are weighing all of these options. I'll let you know how it goes. To help you plan, here's a Caring.com air travel checklist, and an information-packed "Anyone Can Travel" book written by two nurses.
Image by Flickr user casers under a Creative Commons attribution license.