Caring Currents
A "Sandwiched" Daughter Says Enough is Enough
Last updated: Apr 16, 2008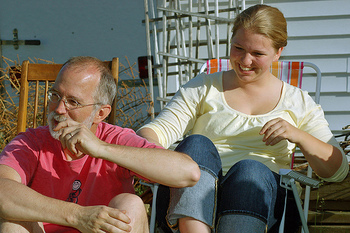 Last week I wrote about the sandwich generation -- women caring for both children and elderly parents -- and a new study showing that, despite massive stresses, many suffer from "superwoman syndrome" and don't reach out for help.
That's why I was glad to hear back from a reader who had learned, the hard way, that everyone benefits when sandwiched women learn they have limits too:
When my parents moved in with us 5 years ago, I tied on my cape and proceeded to care for them, deliver my 5th child, work part-time at the church, and deliver my 6th child, while taking on another part-time job from home. Then it all came crashing down on one fateful Friday the 13th. After some good medication and months of therapy, I realized that no one can carry a burden like that alone.
So, when my mother-in-law passed away in December and my father-in-law, 86 with early dementia, needed a place to live, he came here. Having retired my cape before, I resisted the urge to dust it off and wear it again. Instead, I hired a caregiver to come and help me 4 days a week, and she has preserved my sanity. This way, I can enjoy both sides of the bun in the sandwich without feeling like the shrinking meat in the middle. --Anonymous
Hiring part-time in-home care, if you can afford it, is a great idea for lightening the load.
Next week I'll post a list of other sanity-saving suggestions for those caring for their parents at home. Please send along your own -- I bet the reader above would love to hear what has worked for you and your family. All of us would -- care giving can be a lonely business, but with so many of us in the same boat, it really doesn't need to be.
Image by Flickr user leadfoot used under the Creative Commons attribution licence.