Caring Currents
New Legislation (and You) Can Help Prevent Seniors From Falling
Last updated: Jun 24, 2008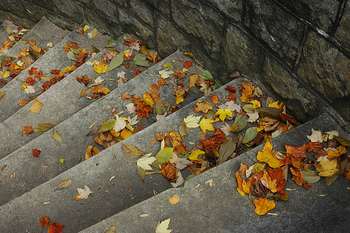 The Safety of Seniors Act, a bipartisan bill recently signed into federal law, tackles a problem that keeps many care givers up at night but has previously received little in the way of  national attention: senior falls.
Falls are the leading cause of injury deaths among those over 65, accounting for about 13,000 deaths and 1.8 million emergency room visits annually. With one in three seniors experiencing a fall each year, fall-related medical costs total a staggering 19 billion annually.
If your parents have decided to grow old in their own home, there are a few simple steps you can encourage them to take right now to lower the odds of a fall (lots more information is available at stopfalls.org):
Get rid of any throw rugs.
Install a banister on both sides of the stairs for extra stability.
Make sure all areas of the home are brightly lit.
Install grab bars in the shower or bathtub and beside the toilet.
Go over all your parents' medications with their doctor and/or pharmacist to be aware of interactions that might cause grogginess or disorientation, and ask the doctor to help figure out the best times to take drugs to minimize interactions and side effects.
Ask the doctor or a physical therapist to suggest exercises to improve balance.
The Safety of Seniors Act focuses on increasing public awareness, supporting research and demonstration projects that foster new approaches, and studying the effects of falls on health care costs. While President Bush has signed it into law, there is no funding attached yet to implement it. 
What do you think? Have your parents experienced a fall -- or do you worry that they're at risk for one?
Next week: Can New Technology Offer Seniors a Fall-Free Future?
Image by Flickr user SuziJane, used under the Creative Commons licencing agreement.