Caring Currents
When Help and Control Go Head to Head
Last updated: Nov 25, 2008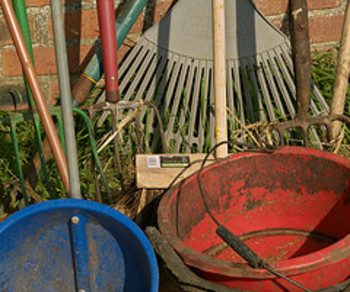 Last week, I offered a checklist aimed at helping assess how aging-in-place relatives were doing during a holiday visit.
Meanwhile, my own aging-in-place dad had hit a minor crisis of his own, and I realized that somehow I'd neglected to write part two of the checklist: Once you identify a problem, how do you get a set-in-his-ways relative to do something about it (or let you help)?
Maybe I "forgot" because this issue is so very challenging.
Outside my 88-year-old father's back window is an ancient yellow rose vine that winds up two flights of back stairs, an impenetrable thicket of thorns and twisted stems as wide as four feet in parts. When it grows too big, it threatens his life -- literally -- by closing off his only escape route during a fire.
Ordinarily, he has a gardener come by every six weeks to trim the thing back. But the last time I visited, he mentioned that he'd fired the gardener and was letting the vine go. Like many older folks who rely on retirement portfolios, the current economic crisis has him in a panic -- as far as he's concerned, it's 1929 again, and anything that isn't essential is now in the category of unaffordable.
Making matters worse, his back -- which has always troubled him intermittently -- had "gone out" again, and he was moving with difficulty.
Alarmed, I started running through a checklist of my own, beginning with getting my dad in to see the doctor for his back, then doing something about the vine (which, really, he could afford to take care of), then taking care of some other home maintenance issues I noticed he was letting go.
Maybe I should have looked up from my checklist a little sooner to catch the look that was brewing in his eyes -- the kind of intransigence I see on my children's faces when I insist they eat their spinach. The more briskly I went about getting things "under control" for him, the less in control he felt, and the more he dug in.
When I left, we were at an impasse. In visible pain, he told me he was "doing fine" and that I was a "nudge" and "a worrier." So much for the checklist, I thought as I drove home, near tears from frustration and, yes, worry.
My husband, hearing my frustrations, took a different approach. The following weekend, he and my eight-year-old son went out with a pair of electric hedge clippers and attacked the vine. When I called to check in, I could hear my dad in the background, barking orders from the second story window.
By the end of his three-hour battle with the vine, my husband's back wasn't in great shape either, and as the three "men" collapsed on the sofa, commiserating about their aches and pains, miraculously, my dad decided it was time to call the doctor about his back.
Why had my husband made progress on my checklist when I'd gotten nothing but resistance? Simple. He'd made my father part of the team by letting him call the shots, rather than rushing in and trying to "fix the situation" for him.
After all was said and done, I realized, from my dad's perspective, that this wasn't a so-called "situation" -- it was his life, and as an adult, although he might need some help here and there, more than anything, he still needs to feel he's at the helm of it.
I'm not throwing out my checklists. Just the opposite -- the more complex and numerous our parents' needs become, the more important it is to have tools for managing them , so that we have some sense that things are under control. But I'll try to remember that my dad needs that sense of control as much as, or even more than, I do -- and that keeping my checklist to myself might be a good place to start.
Image by Flickr user pdam2 used under the Creative Commons attribution license.