Caring Currents
The World Mourns Randy Pausch's Death From Pancreatic Cancer
Last updated: Jul 30, 2008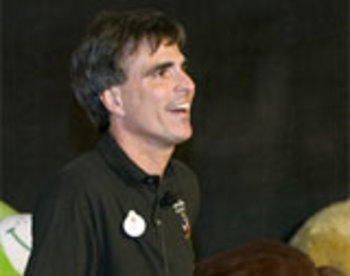 This week, many of us with cancer in our lives are mourning the death of Randy Pausch, the professor at Carnegie Mellon with pancreatic cancer whose " Last Lecture " about pursuing childhood dreams became a worldwide phenomenon. Pausch died Friday at home in Virginia with his wife Jai, his three children, and close friends by his side. At last count, the lecture, which became a viral Internet phenomenom when students uploaded it to YouTube, had been viewed by more than six million people. A book based on the lecture that Pausch co-authored with Wall Street Journal columnist Jeffrey Zaslow has been translated into 30 languages.
I won't go on and on; this is a story that bears exploring for yourself.  Pausch's message has had such national resonance that Carnegie Mellon created a special page with all the links you need to follow the story. Please treat yourself to the time to do so.
What I will say is that when you're caring for a loved one with cancer, no matter what the present reality (treatment or no, good news or bad), death becomes a new presence in your life, waiting ahead, around a few bends in the road. Pausch became a hero -- for me and for millions of others -- by talking honestly and openly about what it's like to live day to day with that knowledge.
Professionally, I should also mention that Pausch did much to raise awareness about pancreatic cancer, one of the most deadly of all cancers, which has a shockingly low survival rate of 4 percent after five years. In March, he testified before congress on the desperate need for funding for pancreatic cancer research, pointing out that "We don't have advocates for this disease because they don't live long enough. We don't have a Michael J. Fox because people die too fast."
This is the cancer that also made headlines earlier this year when actor Patrick Swayze was diagnosed with it; let's hope the burst of attention leads to more research funding into screening and treatment options for this terrible disease. Pausch actively pursued treatment, continuing to investigate the option of a pancreatic cancer vaccine until just weeks before he died. The Pausch family has asked that donations in his name be made to the Pancreatic Cancer Action Network .
Image of Randy Pausch taken from the "Last Lecture" video.