Caring Currents
Patrick Swayze's Last Wish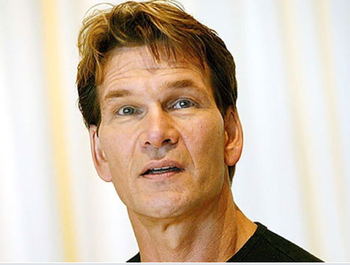 All Rights Reserved
Patrick Swayze lost his battle with pancreatic cancer Monday night, after waging a brave battle during the 20 months since he announced his diagnosis. It may be Swayze's romantic turns in Dirty Dancing and Ghost for which he's best remembered, but cancer patients will never forget how Swayze turned his own battle into a public plea for help for all those affected by this terrible disease.
It's his own words that provide the best memorial for Swayze, who was only 57. "I keep dreaming of a future, a future with a long and healthy life, a life not lived in the shadow of cancer, but in the light," he said in the live television event "Stand Up to Cancer," which aired in September, 2008.
In February of this year, Swayze published a straight-talking op-ed piece in the Washington Post titled, "I'm Battling Cancer. How About Some Help, Congress?" He urged senators and representatives to vote for the maximum funding for the National Institutes of Health to fight cancer as part of the economic stimulus package.
In his op-ed, he finished by saying "My hope is that one day the words "a cure" won't be followed by the words "is impossible.""
A diagnosis of pancreatic cancer is essentially a death sentence; most people diagnosed with this virulent cancer have only months to a few years to live from the time they find out they're sick. Like Randy Pausch, another hero of Cancer World who battled pancreatic cancer, Swayze fought hard. He had brutal chemotherapy and experimental treatments at Stanford, with his beloved wife and partner of 34 years, Lisa Niemi, flying him up from Hollywood in a private plane. Meanwhile, despite debilitating side effects, he continued to act, launching a demanding new action series, The Beast, even as his disease progressed.
To many of us with cancer in our lives, one of the most frustrating and enraging aspect of Swayze's cancer battle was watching how rumors of his death dogged him from the time he was diagnosed. Only months after his diagnosis, when he still appeared quite healthy, tabloid headlines had him just "weeks away" from death. And in mid-May a rumor that he had died swept through Twitter and other social media and was picked up by major news media before Swayze's representatives squashed it.
Struggling to live life to the fullest while in the shadow of death is something cancer patients and their loved ones know all too well. Finding joy and strength with a terminal diagnosis hanging over you is difficult enough. Doing so while the world wrongly anticipates and trumpets news of your death, as Swayze did, is an act of supreme grace. "Hope is a very, very fragile thing in anyone's life," he said. "And the people I love do not need to be having that hope robbed from them."
In the end, the cancer won. But Swayze didn't let cancer have the last word. As Swayze said in his brave and memorable last [interview with Barbara Walters] (http://www.youtube.com/watch?v=VG9droD_nQE), "Yeah, I'm scared. Yeah, I'm angry. Yeah, I'm asking, `Why me?'" -- emotions all of us dealing with cancer can identify with.
But, he added, "You get busy living or you get busy dying."
The tabloid headline Swayze envisioned for himself: "Swayze's Kicking It," did not come to pass. But as he put it so aptly: "I like to believe, and I always have, that I've got a lot of guardian warriors sitting on my shoulder, including my dad, saying `you let us do the work, and we'll finish it for him.'"
So, fellow cancer-warriors, let's get to work.