Caring Currents
Parents' Driving Worries Baby Boomers, But No One Wants to Talk About It
Last updated: Jun 11, 2008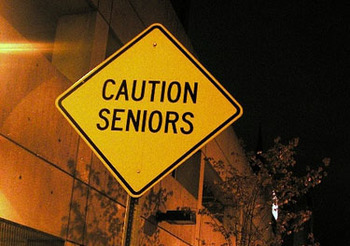 It turns out that Baby Boomers would rather talk to their parents about almost anything except their driving. In fact, in a recent survey by Caring.com and the National Safety Council, adult children agreed that given the choice, they'd even prefer to talk to their parents about death over driving.
A Charged Issue The "Mature Drivers Survey" underscores the fact that seniors and driving safety is a deeply charged issue for contemporary families. More than a third of the adult children surveyed said they'd prefer to talk to their parents about selling their home, or even about their funeral wishes, than about giving up the car keys.
Safety Concerns Their reluctance to broach the subject doesn't mean adult children aren't concerned about their parents' driving. A quarter of survey respondents believed their parents should limit their driving, and one in ten felt their parents should be required to restrict their driving, or shouldn't be driving at all. Seven in ten adult children believed there should be some form of mandatory testing for older drivers.
Few Alternatives A shortage of transportation alternatives may be the biggest challenge facing seniors and driving safety, according to survey findings. Over half of respondents reported that public transportation was not available where their parent lived, and only one in seven said that public transportation was available that would meet their parents needs. This means that for many seniors, giving up the car keys means increasing isolation and dependence. It's no wonder, then, that this is a subject both parents and adult children want to ignore as long as they can.
If you're worried about your parents' driving but have been avoiding the issue, Caring.com can help you get started with a variety of driving resources, including a tool that will help you determine the regulations for senior drivers in your parents' state, ideas for how to talk to your parents about driving safety, and tips on alternative forms of transportation.
Check it out and let me know what you think.
Image by Flickr user Calamity Meg, used under the Creative Commons licencing agreement.