Caring Currents
Online Access for the Elderly? You Bet!
Last updated: Jul 15, 2008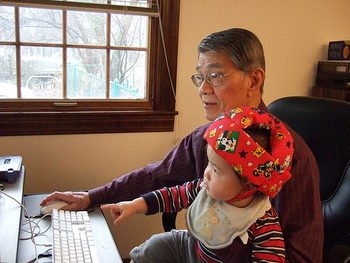 When an illness sent my 87-year-old father to a skilled nursing facility temporarily, he was begging for his car keys from the minute he arrived. It wasn't the bland food that got to him, and he actually liked his roommate -- he just couldn't bear the thought of all the e-mail piling up in his inbox at home.
Turns out the image of the senior set as technologically challenged is as obsolete as a manual typewriter. According to new research from the AARP and the Center for the Digital Future , seniors log on at about the same rate as younger folks to check the news, socialize, play games, shop, and -- perhaps most importantly -- maintain relationships.
With the great majority of seniors planning to live out their days in their own homes, this last finding may be the most important. Online communities, photo-sharing sites, and plain old e-mail can offer a buffer against the social isolation that often comes with aging in place.
Even if your parents don't -- like my dad -- have six simultaneous online chess games going with pals on three continents, there are new tools and technologies available that can bring them into the digital age, or take advantage of the fact that they're already connected online to keep them connected to you.
• For the parent who's not quite ready for Web 2.0, there's the Celery Computerless Email System . Your e-mails to your parents -- including photos, scans of grandkids' drawings, and so on -- are automatically converted to faxes on their end, ready to print and read. To reply, they can hand write a note, drop it in a Celery-capable fax machine, and send it directly to your e-mail account. Celery even matches a hand-written nickname to a pre-programmed address book, so your parents don't even have to dial a number or write out an e-mail address to reach you.
• If your parents are already online (or want to be), an operating system like Windows Vista includes an array of "accessibility" features that make staying online a breeze even if a user's senses begin to decline. Features include speech recognition software that allows users to dictate e-mail rather than typing it, and even browse the Web using verbal commands; a magnifier that enlarges portions of the screen 2-to-16 times; and a text-to-speech program that reads what's on the screen out loud for those with poor eyesight.
Tools like these are just the tip of the tech iceberg. For more on what the digital age has to offer the aged, check out High Tech Solutions to Aging-in-Place, Caring.com's worry-by-worry guide to future-proofing your parents.
Image by Flickr user superhua used under the Creative Commons attribution license.