Caring Currents
Behind-the-Wheel Safety for Older Drivers
Last updated: Jun 23, 2008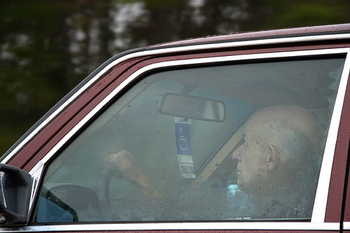 A tsunami of older drivers will be hitting the highways over the next few decades as Baby Boomers grow old -- by 2020, 1 in 5 drivers will be 65 or older.
If you've been dealing with elderly parents whose driving is shaky, the image of roadways teeming with senior motorists may strike you as an excellent plot for a horror film. But there are specialists out there gearing up for our aging future.
Japanese automaker Nissan, for one, is taking steps to design cars that are more senior–friendly. To that end, the company has developed a special suit that simulates the physical experience of the older driver. The suit isn't flattering: It includes dark glasses, bulky gloves, a neck brace, heavy casts on the limbs, and a thick belt around the waist. But it's not meant to be pretty -- it's purpose is to help engineers in their 20's and 30's understand what it feels like to drive a car when you're 75 years old. The suit, obviously, simulates poor eyesight, stiff fingers, arthritic joints, and even overabundant midsections. (Thanks to WorldCarFans for this tip).
At the Age Lab at MIT, researchers are working with major auto companies to develop new technologies to improve the safety of older drivers. The Lab has also teamed up with AARP to evaluate and enhance the effectiveness of refresher education programs for older drivers.
Research shows that older drivers get a bit of a bad rap: Most seniors drive cautiously, follow the rules of the road, and limit their driving to match their abilities. Still, aging undermines physical mobility, eyesight, and cognitive abilities, which can't help but compromise driving skills.
Will improved car design, technological innovations, and driver education make senior drivers -- including, at some point, many of us -- safer on the road? What do you think?
Image by Flickr user ameliaps, used under the Creative Commons licencing agreement.