Caring Currents
Nursing Home Fears
Last updated: Oct 14, 2008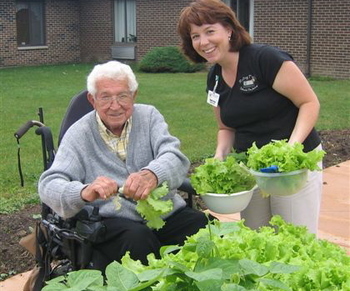 Say the words "nursing home," and what comes to mind? Sterile hallways, the smell of disinfectant, runny eggs on a tray, a diffident game of bingo with Wheel of Fortune playing endlessly in the background?
Researchers have found that older Americans fear winding up in a nursing more than they fear death itself. If this is the picture they hold in their heads -- combined with expectations of helplessness, incapacity, and isolation -- is it so surprising they'd fight tooth and nail to stay away?
But a new movement is afoot to change the way nursing homes operate, down to their very core. This movement is way past the conceptual stage -- across the country you can find nursing homes that are filled with birdsong; where koi ponds have replaced nursing stations and residents live in "neighborhoods" rather than wards; where meals are served family-style around big tables and sunshine and laughter are abundant even as age works its irreversible ravages.
Some of these homes come out of the Eden Alternative model -- the brainchild of geriatrician Bill Thomas, whose foundation has helped convert hundreds of nursing homes to what he calls Green Houses, groups of small, cozy homes that offer private bedrooms and baths, and "hearth rooms" with an open kitchen. Residents can eat when they want, sit by the fireplace, and take part in all house decisions.
Others are spearheaded by forward-thinking nursing home administrators who may or may not consider themselves part of a "movement," but who are united in their determination to improve the experience of the elders under their care by making nursing homes less like hospitals and more like home.
Here are a couple of stereotype-busting examples:
At Grancare Nursing Center In Green Bay, owner Donna Zunker began working the floor alongside her CNAs (certified nursing assistants) after attending an Eden Alternative training, learning and training at the same time as she tried to implement a top-to-bottom culture change. By the time she was through, her head nurses had become "mayors" of wards that had been converted into "neighborhoods," and residents were cooking their own breakfast. Bath day, which (figuratively speaking) used to be "an assembly line of hosing people down," had become Spa Day, and 20 different birds were trilling from residents rooms, competing for attention with Carly, the resident golden retriever, and Putty the cat. Today, there are six wheelchair-accessible gardens and a playroom for visiting children. Medication use, staff turnover, and resident incontinence have all decreased since these changes were instituted.
At the Lyngblomsten Care Center in St. Paul, an exchange program with a Swedish nursing home led to a "person-centered" model in which residents make their home in one of three "service centers," broken down into 11 "neighborhoods." Residents live not in hospital-style rooms but small apartments, and the service centers offer full kitchens, dining rooms, fireplaces, aquariums, and aviaries. Seniors are encouraged to bond with caregivers (who provide both nursing and daily care), to make decisions about their daily lives, and to provide as much of their own self-care as they are physically able -- even if it means things move at a slower pace. The need for personalization and a sense of home has been thought through down to the last detail: Residents are encouraged to keep the foods they like in their own rooms and to bring a favorite chair with them when they move in.
A recent report from the U.S. Department of Health and Human Services found that more than 90 percent of the nation's nursing homes were cited for a health or safety violation last year. Those kinds of numbers -- combined with the message our elders are sending when they tell us they'd rather be dead than cared for in a nursing home -- send a strong message that it's time for a serious overhaul of the nation's nursing home system.
Let the birdsong begin.
Photo courtesy Eden Alternative.