Caring Currents
Wanted: Companionship for a Dad with Diabetes
Last updated: Mar 27, 2008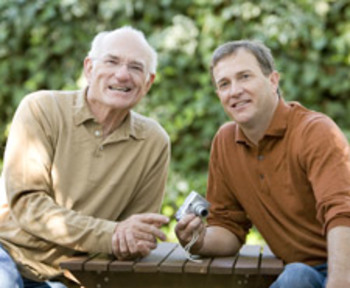 In my very own real (not virtual) backyard lives Jerry, a 79-year-old man with type 2 diabetes who recently had a stroke. His daughter Jill has his housing under control: When it became clear her ailing father needed a place to live close to her she simply built him a little cottage behind the bungalow she already owned. With some trial and error she's also figured out that signing up for Meals on Wheels means her Dad eats regularly and healthily, and hiring a visiting nurse takes care of his personal hygiene needs, such as bathing and toenail clipping.
Her biggest dilemma: Finding companionship for her father. Like most of us in the so-called sandwich generation she has a very busy life. A family of her own, work commitments, and travel keep her on the go. She swings by to chat with her dad, takes care of his financial matters, and addresses his health concerns, but she isn't able to simply hang out with him for hours on end. After each visit she's acutely aware of how much her dad craves company. And she's at a loss as to what to do.
Turns out, though, there's a fancy name for the kind of help she seeks: non-medical senior companionship. And it's out there: She could hire someone to play cards, discuss current affairs, or read books with her dad through services such as Comfort Keepers or Visiting Angels. Or she could go the volunteer route and check into a non-profit organization's senior outreach program such as Little Brothers – Friends of the Elderly or Senior Corps' Senior Companion Program.
Have you tried these programs or do you have other suggestions to add to the list that might help make a homebound senior's life less lonely and isolated?