Caring Currents
Anti-Cancer New Year's Resolutions
Last updated: Jan 06, 2010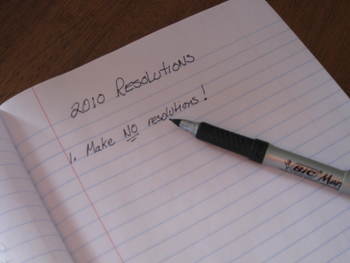 We're just a few days into the new year, and everyone's rushing to make resolutions. But instead of promising to get organized or become bikini-beautiful, let's focus on what really matters: getting and staying healthy. Here, in no particular order of importance, are five resolutions to protect yourself from cancer in 2010.
1. Avoid too much sun exposure. By this, I really do mean too much -- it's actually a good thing to get your 15 minutes' worth of rays to build up vitamin D. But if you're going to be out longer than 15 minutes, be sure to lather up the sunscreen, put on a hat, and cover up with long sleeves. Melanoma is much more serious than many people realize; it's actually the fastest growing type of cancer in the U.S. right now. If you saw a movie over the holidays, you may have had your awareness about melanoma raised; rock singer Bruce Springsteen recently released a public service announcement about the dangers of melanoma after beloved E Street Band member Danny Federici died of the deadly cancer in 2008 at the relatively young age of 58. (Springsteen and other musicians also set up the Danny Fund to benefit the melanoma research foundation.)
2. Get your annual mammogram, colonoscopy, and other screening tests. Yes, the news reports echo with debates about whether mammograms should be yearly or less frequent, but cancer advocates are clear: Your annual mammogram is your best defense against breast cancer. Same for colonoscopies, dermatology skin checks, PSA tests, and other screening methods -- they're tools, but they only work if you use them.
3. Quit smoking. If doing so on your own is too daunting, ask your doctor for help (patches and other tools can make quitting much easier) and enroll in a stop smoking program that includes group support.
4. Make your plate a rainbow. Blueberries, broccoli, and other fruits and veggies may be anti-cancer superfoods but the truth is, all you really have to do is put some color on your plate. Antioxidants, the plant-based chemicals that prevent cancer, are also what give fruits and vegetables their color. So any fruit or vegetable that has a deep color is automatically rich in these phytochemicals.
5. Up your exercise quotient. No one wants to hear this one, but I'm going to make it really easy. You don't have to buy a bicycle or take karate lessons. All you have to do is make sure you do some type of physical activity (Raking leaves? Shoveling snow?) each day; 30 minutes of moderate exercise every day can cut your risk of cancer by 50 percent. This fall, one study even found that men who walked briskly for three or more hours a week cut their risk of prostate cancer by two thirds.
Thanks to cancer bloggers Amber Michelle Greviskes at AOL's The Cancer Blog and PJ Hamel at the Breast Cancer Network's blog, who offered their own new year's resolutions to prevent cancer in 2010.