Caring Currents
Vision Problems: New Ways to "Read" When Older Eyes Fail
Last updated: Aug 25, 2008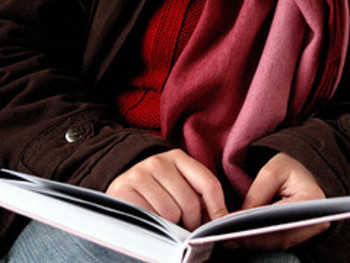 I remember my grandma's vision going. She'd bump and crash her way around her house; hold recipes, TV Guide, and the sports section brushed against her glasses. (She was perhaps the world's biggest Pittsburg Pirates' and Steelers' fan.) She didn't like talking about her eyesight and was reluctant to accept help.
I'm pretty sure my grandmother had macular degeneration, a progressive, incurable blindness associated with aging. Family facts are hazy, and she died years ago. A number of eye problems are associated with aging, as described well by the University of Illinois eye clinic.
Today several of my friends are going through similar things with their parents. Vision loss brings a number of significant hardships, but losing the ability to read is one of the toughest for people to take. "A major turning point sending my mom into depression," one friend said.
It turns out, there's lots of help out there for people who can't see -- specifically help accessing the printed word. It's easy to miss these resources if you're not immersed in the support community for the visually impaired. Many seniors newly experiencing vision loss or who have gradual vision loss don't consider themselves blind. I know my grandma didn't. But much of the help is geared for them.
Talking Books is a comprehensive U.S. government lending service for people with vision loss. Working through public libraries and the mail, it supplies clients with reading materials in large print and Braille, as well as various audio recordings in a variety of formats. It also loans audio equipment. For more information call 1-888-NLS-READ or visit the National Library Service for the Blind and Physically Handicapped.
Audio books, books on tape, and more. There's a huge selection of recorded books out there to buy or rent. Check out the local library or bookstore, or search online with audio books or books on tape and you'll get tons of hits. Some are offered by nonprofits or public agencies; others are from private publishers. Make sure the senior you're caring for has the equipment to play a "book," and knows how to use it.
Large print books. Same as above. With the growing aging population, the demand for large print books is high. Many are sold by publishers at stores or online, and libraries usually carry a selection.
Specialized radio broadcasts. There's an amazing volunteer network of radio professionals who specialize in broadcasts for the visually impaired. Most work with community members to broadcast what they want to hear, such as the local newspaper, local sports, or consumer information. Visit the International Association of Audio Information Services for more. (Its website includes a service locator.)
Assisted technology including computers. The field of assisted or accesible technology for people with vision problems is booming. With the click of their computer, the elderly can hear almost anything printed. One of the best sources for this quickly-changing field is the venerable nonprofit, the Lighthouse for the Blind. (While you're at it, check all of its services and resources, as they're extremely helpful.)
Volunteer Readers. Last but certainly not least, many organizations, including senior centers, provide real people to read to people who can't. Check with local senior centers, the Eldercare Locator, or online with search terms volunteer reading or reading to seniors. And you can always add reading to a caregivers' responsibilities; many find reading to others a pleasure.
For more information on helping your parent deal with low vision, take a look at this detailed Caring.com article. I can't help but wonder if my grandmother would have accepted any of this help. She could be so stubborn. Maybe with some nudging, especially if she knew she could get easy access to sports scores, stats, and play-by-plays!
Image by Flickr user CKaroli under a Creative Commons attribution license.