Caring Currents
New Fall Prevention Tools Keep Seniors Steady
Last updated: Jul 01, 2008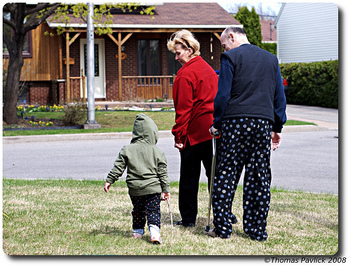 Last week, we looked at new legislation aimed at easing the epidemic of falls among elders.
Turns out -- as with many aspects of getting older -- there are some high-tech options in the works to help keep seniors steady on their feet.
Some were designed for use in nursing homes or assisted living settings but could also be used by caregivers at home. Unlike Personal Emergency Response Systems, these systems are designed to prevent falls rather than respond to them:
The FallSaver is a small patch that attaches to the thigh with a "tilt sensor" that's activated when the wearer stands up. This is most useful for a senior who really shouldn't be walking without assistance -- if he gets up from bed or a chair, the device signals a care giver and alerts the wearer to sit down until help arrives.
The University of Virginia is developing a Gait monitoring device that measures a user's footfalls to establish a baseline gait, then notifies a care giver, health care provider, and the senior herself if the gait begins to vary -- indicating that she may be at risk for a fall in the near future.
For a tech-savvy generation that's adapting to everything from fully-automated homes to video game crazes like the Wii, there's the option of trading in their canes for souped-up robotic walkers. Guido the Smart Walker scans the room for tripping hazards, gives the user a verbal heads-up through a speaker, then stops automatically should its operator try to outsmart it and head into the hazard anyway.
Combine these high-tech solutions with basic fall-prevention measures, and we just might make a dent in one of the greatest threats there is to our parents' safety, mobility, and long-term quality of life.
Photo by Flickr user CBGB_Hoser, used under the Creative Commons licensing agreement.