Caring Currents
R. I. P. Leroy Sievers, Who Taught Us to Talk About Cancer
Last updated: Aug 20, 2008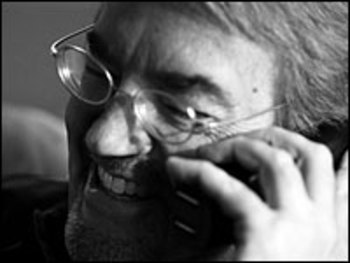 Cancer patients all over America and the world are paying tribute to NPR reporter Leroy Sievers, who died Friday after a brave battle with colon cancer that recurred in his lungs and brain. Sievers' legacy is a lasting one. In fact, I think it's safe to say that, thanks to Sievers' monumentally popular blog, My Cancer , the way cancer patients, their caregivers, and their doctors confront this terrible disease will be forever changed.
What Sievers did, largely by example, is show the way to a new, more open way of discussing the life-changing aspects of fighting cancer -- all of them. The fears, indignities, and near-impossible choices, but also the renewed faith, deepened relationships, and eye-opening appreciation for life's small joys that are cancer's legacy as well. And he didn't shy away from the hard and scary parts like pain, the frustration of immobility, and impending death. "I don't think there's anything that's off limits," Sievers famously said in one of his podcasts, which are now summarized as "Leroy Sievers' Cancer Conversations" on the NPR website. From "the inner workings of your body," to "how long?" Sievers said, nothing should be off limits. "It's a different world. We call it Cancer World."
Sievers was an odd role model for learning to talk about our feelings. At 6'5" and 250 pounds, Sievers was a big, tough guy, who spent 25 years covering wars and famines around the globe, including being embedded in Iraq. He opened his first NPR commentary announcing his cancer by saying "Death and I are hardly strangers." But maybe that's what made him so accessible. Who better but a blustery, ultimately "macho" guy to help ordinary people talk about impending death?
The network of friends and colleagues that Sievers rallied around him taught us by example as well. Ted Koppel, Sievers' colleague on "Nightline," posted a moving tribute to Sievers on Saturday, and also earlier this year made a documentary about Sievers' battle with cancer and the phenomenon of his blog, which created a community of people who commented and shared their own cancer stories, becoming a story in their own right. And those commenters, many of whose stories are featured in a collage on the NPR site, continue to comment and post.
Leroy Sievers also gave a voice to cancer caregivers, who, he said, inhabit Cancer World right along with the loved ones they care for. His wife, Laurie Singer, posted regularly on the blog, and her last post, dated yesterday, asks the legions of Leroy fans for their support. Referring back to an earlier post in which she had asked readers to "count to three and LIFT" in order to help Leroy, she wrote: "Now, it's my turn to ask that you to count to three again and LIFT... but this time it's me who needs the support. Could you keep "lifting" me just a little longer... please?"
Ted Koppel put it perfectly: Cancer was not in Leroy Sievers' plans. It's not in any of our plans. But he turned his battle with cancer into the most dramatic, the most moving, and the most important story of his life.
Image of Sievers taken from the Discovery Channel documentary Ted Koppel made about Sievers and his new community last spring.