Caring Currents
10 Signs Your Parent Is Struggling Financially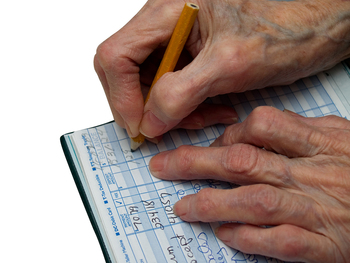 All Rights Reserved
Your parents assure you that their bank balance is in fine shape. But is it really true -- or are you worried they're actually just scraping by?
Even if your parents haven't shared the details of their financial situation, there can be tell-tale warning signs that they're feeling the need to cut back on their expenses. Home Instead Senior Care, an elder care provider, has compiled a list of signs that may indicate your parents are in need of financial help.
Here are the warning signs to look out for, according to Home Instead:
Is your seniors' home too warm in the summer and too cold in the winter?
Is the lawn not getting mowed and is the sidewalk not getting cleared in inclement weather?
Are they complaining about not being able to afford medications?
Are home repairs not getting made?
Is there a shortage of food in the house?
Are doctor's appointments being skipped?
Are they staying home more and becoming isolated?
Are they cutting out entertainment?
Do they eat out less?
Have they cancelled a vacation?
Seniors who are worried about money are more apt to fall for fraudulent sweepstakes, bogus investment offers, and other scams -- so if your parent is showing any of these warning signs, it's important to talk to them to find out what's going on and how you can help before they fall deeper into debt. Home Instead suggests contacting your local Area Agency on Aging, which offers assistance with food and gas expenses. There are other ways you can help your parent stretch their resources, including:
Help them start a vegetable garden in their yard for a cheap source of healthy food.
Take them to a Certified Financial Planner to make sure they're budgeting correctly and not making poor financial decisions.
Help set up carpools to regular appointments or social events to save on gas.
It's never easy to talk to your parents about money -- especially when you suspect they may be struggling -- but if they're showing any of the warning signs of money problems, it's important to help them address the situation sooner rather than later.
Photo by Marcin Moryc/Big Stock Photo