Caring Currents
Millions Falling Into the Doughnut Hole
Last updated: Aug 29, 2008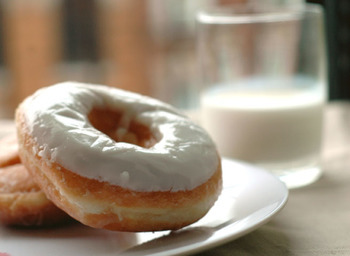 The so-called "doughnut hole" coverage gap in Medicare Part D prescription drug coverage snared millions of seniors in 2007 -- and forced many to stop taking prescribed medications they would have had to pay for themselves.
In 2007, 3.4 million people, or 14 percent of all people enrolled in Medicare Part D, fell into the coverage gap, says a Kaiser Family Foundation study released last week.
According to Medicare Part D rules, enrollees pay a monthly premium, a deductible, and a co-payment of 25 percent of the total cost of their medication until they have spent $2,510 on prescription drugs. After that point -- known as the doughnut hole -- they must pay out-of-pocket for prescription drugs until they reach a "catastrophic" level of $4,050 total out-of-pocket spending. Then, Medicare coverage will kick in again. (Seniors can also purchase a private insurance plan to bridge the gap.)
Not surprisingly, seniors with certain chronic conditions like Alzheimer's, diabetes, or depression were at a much higher risk for hitting the doughnut hole. More disturbing: About 15 percent of Part D enrollees who hit the doughnut hole opted to stop their medication altogether rather than pay out of pocket, while 5 percent switched to another medication in the same class and 1 percent reduced the number of total drugs they were taking.
Medicare Part D can be a maze that's almost impossible to navigate, so it's not surprising that some enrollees opt out and stop taking their medications when faced with a gap in coverage. If you're worried that your parents or a family member are facing the doughnut hole, here are some resources to help you sort out their coverage options and keep them getting their correct medications:
Image by Flickr user Simply Photo, used under the Creative Commons attribution license.