Caring Currents
Men, Women, Illness, and Caregiving: A Recipe for Divorce?
Last updated: Nov 20, 2009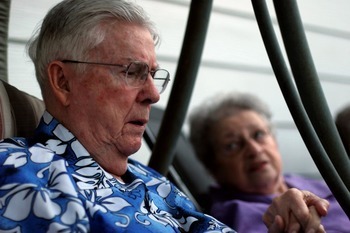 A new study published this week in the journal Cancer has doctors, patients, and families talking -- and asking hard questions -- about what happens in a couple when it's the wife, rather than the husband, who becomes ill.
Here's what researchers found when they followed 515 patients with cancer or multiple sclerosis over a period of five years.
"¢ A woman is six times more likely to end up separated or divorced soon after a diagnosis of cancer or MS than a man who becomes ill with the same disease.
"¢ In couples in which the woman fell ill, the divorce rate was more than 20 percent.
"¢ In couples in which the man got sick, the divorce rate was just 2.9 percent.
"¢ The older a woman was at the time she got sick, the more likely she was to end up alone.
"¢ However, the longer a couple had been married, the less likely they were to end up divorced.
The researchers at Seattle Cancer Care Alliance, Huntsman Medical Center, and Stanford University were studying a phenomenon that has already been documented in numerous other studies. It's called "partner abandonment," and sadly, it's very real. The researchers who designed the study, Marc Chamberlain, a neuro-oncologist at Seattle Cancer Care Alliance, and physician Michael Glanz, of Huntsman Cancer Center, said they'd previously noticed in their practices that divorces occurred almost exclusively when women became ill.
(And yes, many news outlets covering this story are linking it to the story of John Edwards and his wife Elizabeth, and his cheating while she battled breast cancer. It's easy to see why they made the link, though cheating isn't leaving.)
The researchers also studied the effect that divorce or separation had on the MS and cancer patients, and found that their ability to effectively pursue treatment was affected by the loss of their relationship. Women who end up separated or divorced while being treated for cancer or MS were more likely to suffer from depression, were hospitalized more often, were less likely to join a clinical trial, and were less likely to complete radiation treatment, than women whose partners stayed with them as caregivers. They also found that women whose partners left them were less likely to die at home.
All of these facts resonate with those of us in Cancer World; I previously wrote a post about the challenges I watched a single friend face while battling breast cancer without a partner.
Rather than focus just on the disheartening aspects of this research, I think it's important to talk about why men leave, and what we can do to help them take on and succeed as caregivers. The study's authors, who are both men, commented that men's decision to leave a sick spouse can be partly explained by their lack of ability, compared to women, to make the rapid shift in commitment to being caregivers to a sick partner. The caregiving role simply doesn't come as naturally to men as it does to women, and it's easy for men to feel overwhelmed and ill equipped to handle such an enormous change in their lives.
So what can we do about that? To start, here are some tips about how to support a woman with breast cancer, many of which can be generalized to other types of cancer and other illnesses.
But what I'd really like is to hear from those of you, women and men, in the midst of illness and caregiving. What makes some men panic when suddenly finding themselves caring for an ill spouse, and how can we help prevent this from happening? A wonderful, devoted husband commented on Wednesday's post about mammograms, detailing his wife's breast cancer diagnosis and treatment, and the fact that a mammogram may have saved her life. Caring.com's Editor in Chief, Jim Scott, helped found Caring.com after caring for his wife until her death from cancer in 2007. And there are many more stories like these. With some support and education, we can help other men step into this role, and avoid the fears and temptations that have made John Edwards a household name for abandonment.