Caring Currents
Organizing Life Records Brings Relief to Seniors and Their Family
Last updated: Oct 20, 2008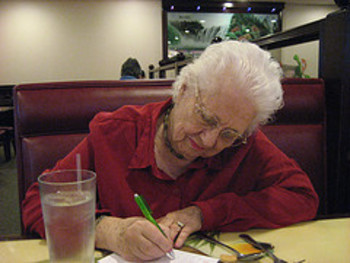 A few weeks ago I wrote about a frustrated friend whose mom dropped out of a memory class at the local senior center.
My friend had hoped her mother might gain real memory-enhancing skills from the class. She's pretty much the sole caregiver of her mother, who still lives in her own apartment (around the corner from my friend) -- but precariously. Her forgetfulness has become a safety concern. It's also led to family tensions around her ability to manage her money and health. My friend's mom refused the class, saying, among other things, that her memory is just fine.
My friend was in despair -- she's in constant search mode for small and easy ways to help her mom stay independent.
Update: It looks like another class has been successful for mother and daughter. Taking a different tact on memory issues, this class is about writing down important life information -- while you still can.  Called "Get It Together," the class (taught at an adult education program) follows a popular life-organizer book called Get it Together: Organize Your Records so Your Family Won't Have To.  It happens to be taught by the book's author, Melanie Cullen, who was inspired to write it after her mother's death.
The class (and book) are quite comprehensive, covering everything from banking to pets, and burial wishes to applicance warranties. My friend and her mom have been going for a few weeks, and so far so good. Her mother, generally resistant to accepting any help on issues having to do with aging, wants to keep going.  My friend credits the success to a few things:
Buy-in from her mom from the start. The class was recommended by a family friend. Her mom wanted to give it a try.
Another good friend of her mom's, a fellow senior, is  also taking the class (added peer companionship).
My friend drives her mom there and is taking the class with her. This takes care of transportation, reminders to attend, and help getting ready.
My friend is working on her own life records, not helping her mother. They're equals as students.
This class comprises a lively group of people of varying ages and doesn't feel like a seniors-only group -- in this way it's not stigmatizing.
I chatted with teacher/author Melanie Cullen, who says that for many elders the act of sorting out life affairs brings two levels of peace: one is immediate (like checking things off a to-do list), and the other is long term, by providing peace at the thought that after you die, things will be handled the way you want.
I also believe that for many elders, making important life decisions gives an empowering sense of control at a time when they're losing independence in so many ways. 
You can help your elders sort their records without a class, of course. And my friend realizes that classes won't solve her mom's big picture memory or health problems. But in the short term, at least, this one seems to be bringing both of them relief.
Image  by Flickr user cote under a Creative Commons attribution license.