Caring Currents
Meaningful Ways to Save Money at Holiday Time
Last updated: Nov 30, 2009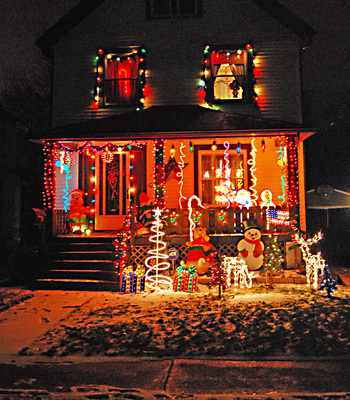 The airwaves are filled with ads for holiday sales and discounts, but that's not really what we caregivers need. We need practical suggestions for how to create a festive holiday for our families without spending money that's more urgently needed for other things. And without stressing ourselves out any more than we already are.
I asked my friends and Caring.com readers who are members of the "sandwich generation" for their best tips on celebrating the holidays frugally and festively when there are both older family members and kids to consider. Their ideas were fabulous, and surprisingly original.
1. Get in the mood by renting holiday classics.
It's often hard to find activities that bring the whole family together, but holiday movies are perfect for that, says Doug, whose mom has amassed a collection the family pulls out every year. And no, they don't just stick to the G-rated faves from the forties; the grandkids have had fun introducing Grandma and Grandpa to a few modern masterpieces too. Their hit list:
Miracle on 34th Street
Rudolph the Red-Nosed Reindeer (the 1970s TV classic with Burl Ives)
It's a Wonderful Life
How the Grinch Stole Christmas -- the Jim Carrey version
2. Have a baking or cooking party.
One friend gets everyone together to make a gingerbread house, another to make latkes and noodle kugel for Hannukah, another to decorate cookies to give as gifts. Older family members can help ahead of time by locating family recipes; if there's a story associated with a particular recipe, make sure there's a chance to pass it along to the kids. When it's time to bake, separate activities into different areas, so everyone gets a chance to participate and older family members don't feel overwhelmed by crowding and noise.
3. Send family members out on a nature walk to forage for decorations.
"A couple of years ago we started bringing the outside in instead of using lights and tinsel, and now everyone loves the annual trip to the woods," says Samantha, whose father has made it his mission to round up the grandkids for the outing. A fun side benefit, Samantha says, is that now her kids have "special" trees where they gather berry-laden branches. "They know where they can find holly, pines, and pyracantha behind the local park and those trees have become special to them."
4. Pile everyone in the car to view holiday lights.
Every town has a few houses that go over the top, and many public parks now have dramatic light displays as well. Many are drive-through, making this the perfect way for less mobile family members to get some holiday cheer. "My dad can't walk too well anymore, so he stays in the car while the kids jump out to look and take photos," Janice says. "If they're serving hot chocolate or cider, the kids bring it back to Grandma and Grandpa. It's really cute."
Is there something that multiple generations of your family do together that creates holiday spirit without spending a lot? Add it to the list!