Caring Currents
"Leisureville" Paints Retirement Community Seniors as 24-Hour Party People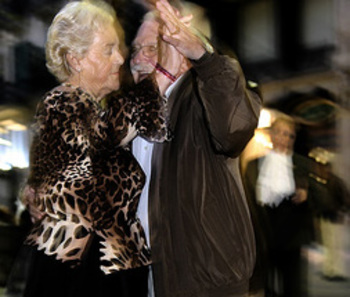 All Rights Reserved
For many of us, when we think about helping our parents plan for retirement, the big concern -- and sometimes dilemma -- is keeping them nearby. Should we invite them to move in with us or to move to a retirement community near where we live? What if their need for our time and attention becomes too much for us -- the sandwich generation dilemma?
Leisureville, a new book on the world's largest retirement community, raises an entirely different -- and fascinating -- question: What if our parents' own retirement fantasy involves escaping from us, and our children, entirely?
The Villages -- the Florida retirement utopia on which author Andrew D. Blechman casts a not-so-favorable-eye -- offers its residents just this opportunity. The 20,000-acre gated community -- complete with numerous golf courses, its own newspaper and radio station, and multiple prefab downtowns -- is off limits to anyone under 55.
To hear Blechman tell it, left to their own devices, the senior set are 24-hour party people, living on Viagra, pot, and pepperoni (no wonder The Villages places strict limits on visits from children).
Blechman isn't the only reporter to describe a recent residency in a retirement community. If the antics of the Leisureville set leave you gasping for breath, check out A Place Called Canterbury, New York Times reporter Dudley Clendinen's graceful first-person portrait of the more sedate, but no less entertaining, retirement home in which his mother spent her final years. (For more about Clendinen, see his interview on Caring.com).
Image by Flickr user J. C. Rojas, used under the Creative Commons licencing agreement.