Caring Currents
Kennedy's Cancer Has Everyone Talking About Brain Tumors
Last updated: May 20, 2008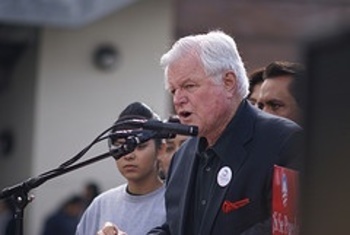 Today's shocking news that Senator Edward M. Kennedy has brain cancer has everyone talking about gliomas and what the diagnosis of such a tumor means for his future.
Len Lichtenfeld, a physician with the American Cancer Society pointed out the sad irony that Kennedy has a been a "major force in cancer research and treatment," and has only recently led hearings calling for expanded federal funds for cancer research.
Predictably, news reports immediately went in search of commentators willing to speculate about Kennedy's potential prognosis. And of course, the news wasn't good. Gliomas are scary; they're typically aggressive and the treatment options limited, particularly for tumors that are too big or invasive to be surgically removed.
Fox News quoted Lynne Taylor, a neuro-oncologist at Virginia Mason Medical Center in Seattle, speculating that if  the tumor is a glioblstoma multiforme, the most common type for someone of Kennedy's age, the prognosis would be nine to 18 months.
More helpful was Lawrence K. Altman, MD's post on the New York Times health blog The Well.  Altman pointed out that Massachusetts General, where Kennedy is being treated, hasn't disclosed information about the tumor's type, size, or gradation that would be important in determining both the best means of treatment and the amount of time Kennedy might have left. In other words, we just don't know enough yet.
Gliomas can be treated with surgery, radiation, and chemotherapy, but surgery is only an option if the tumor is small enough and in an area where removal is possible without too much risk of impairing brain function. Many commentators pointed out that the report from Massachusetts General did not mention surgery as an option, suggesting that the tumor may be too advanced to risk it. Of course, this is speculation as well.
Benajamin C. Wedro, MD, of Medicinenet.com offered a fairly thorough explanation of what we can know so far about Kennedy's condition.
The cancer blogosphere hasn't had much time to react to this news yet, but there were lots of nice words from politicos and newshounds.The Huffington Post has a moving lineup of video clips showing Barack Obama, Senator Chris Dodd, President Bush, and others reacting to the upsetting news and pledging support for Kennedy.
Those of you as upset as I am by this news might want to check it out, or share your thoughts here.