Caring Currents
It Takes a Neighborhood (Pt. 1)
Last updated: Apr 10, 2008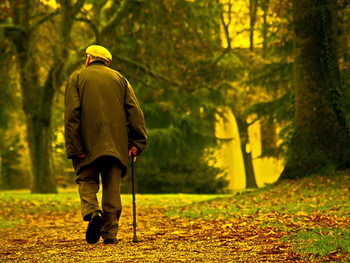 It turns out that strong social ties can actually prolong the lives of elderly people, according to a study conducted by Finnish researchers and published in the Journal of Gerontology in 2006. The researchers found that, over a ten-year period, risk of death was 2.5 times higher for elderly women with low levels of social support, when compared with those who had strong social connections. But Randi Myrseth and Michele Mason weren't thinking about statistics or reports when they stepped into the life of Herbert Anderson (Andy) eight years ago – they were simply helping an elderly neighbor.
Randi and Michele are friends who live on the same street in San Francisco. In April 2000, Peggy Anderson, an elderly neighbor who lived up the block with her husband, Andy, was mugged by a teenager. Randi and Michelle heard about the attack shortly after it happened, and went to the hospital to see if there was anything they could do. Peggy had a fractured hip, and had to stay in the hospital for ten days. It was clear to Randi and Michele that the couple, who had no children and no relatives nearby, needed help, and without thinking about it much, the two friends took on the job. They drove Andy to the hospital every day to visit Peggy, and coordinated neighbors to bring meals after she came home. Peggy had been diagnosed with a brain tumor shortly before the mugging, and her health declined quickly over the following year. Randi and Michele persuaded a furniture store to donate a bed and set it up in the couple's living room, because Peggy could no longer negotiate the stairs. Andy slept next to her every night in his easy chair. Peggy died a year after the accident, and by that time, Andy had become, according to Randi, "another member of the family." They brought him meals every day, drove him to doctors appointments, and accompanied him on his daily walks. They took turns hosting him on holidays. They vowed to help him stay in his home for the rest of his life.
Seven years later, they've kept their promise. Andy now has advanced dementia and is bedridden with 24-hour care. Michele and Randi coordinate his care and visit every day. Helping Andy has been tough at times. Both Randi and Michele have close-knit families and many competing demands on their time. During the years they've cared for Andy, each has seen a beloved daughter grow up and leave for college. Michele still has two children at home, and Randi has a busy psychotherapy practice. Still, Randi says she can't imagine life without Andy. "This has been so rich for all of us," she says.Tune in next Thursday for more on Andy's story. In the meantime, tell us about the elders in your life. Are they getting the support they need?
Image by Flickr user thebmag used under the Creative Commons attribution licence.