Caring Currents
It Takes a Neighborhood (Part II)
Last updated: Apr 17, 2008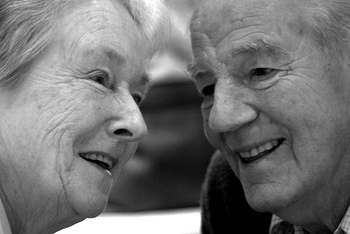 Last week I wrote here about Andy, an elderly man in San Francisco whose neighbors have taken care him for the last eight years. 
I also asked about the elders in your life: Are they receiving the support they need? Unfortunately, social isolation is a widespread problem for the elderly. Isolation has been associated with depression, health problems, and premature death (one study found that social isolation poses a health risk comparable to cigarette smoking).
Without the help of his neighbors, Michele Mason and Randi Myrseth, Andy would now be in a nursing home. The final years of his life would also have been far lonelier, since he's a widower and has no children. Thanks to Michele and Randi, Andy was embraced by a broad circle of neighbors of all ages. Before his health deteriorated, Randi and Michele's husbands would take Andy to the ballpark to see his beloved SF Giants, and he spent alternative holidays at their homes. Michele made a book about Andy's life, a legacy project that helps Andy orient himself, now that he has dementia.
Randi and Michele are quick to point out how much they've received from Andy in return. Randi's daughter has no grandparents in the area, and neither do Michelle's three children. "With Andy, our kids got an instant elderly relative, right up the street," Randi says. She grew up in Norway, so she cherishes the perspective on San Francisco history that Andy has given her. Andy is a native San Franciscan; he remembers when the Bay Bridge was built, and when the streets were lit by gas lamps. When she was small, Randi's daughter loved to hear his stories about the horses that were stabled at the end of their street.
Andy has been confined to bed since he broke his hip last fall. "He's getting weaker and weaker, but he has kept his spirit," says Randi. "He is still sweet and funny. He says that he's ready to join his wife. But he'd be the first to say that he's had an amazing life."
Are there elders in your life who could use more help? We'd love to hear your stories.
Image by Flickr user Ward, used under the Creative Commons attribution licence.