Caring Currents
A Stay-at-Home "Nursing Home"
Last updated: Jun 03, 2008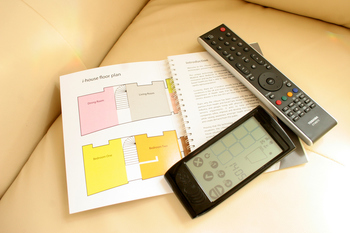 If you thought the new home monitoring systems for seniors were futuristic, you won't believe the I-House, just unveiled in West Bromwich, England.
A team of British engineers took a run-down home in the English countryside and transformed it into a model home for frail seniors who would otherwise need supportive living.
This nursing-home-without-leaving-home features a wheelchair lift connecting the living room to the bedroom, a keyless entry system, and memory aids that prompt residents to perform daily tasks and take medication.
Some of this may sound familiar -- U.S. companies are developing a number of technologies aimed at helping seniors stay at home with greater safety and comfort. But the I-House takes robo-retirement a step further.
Specially-designed door handles reduce the spread of infection, and hot water taps turn themselves off so that forgetful seniors won't burn themselves inadvertently.
Ready to place your order? No plans for export yet, but the University of Florida is piloting a Smart House of its own, with smart blinds, smart mailbox, smart bathtub, and one feature even the I-House can't boast yet -- a real live retiree living there to test the place out.
Stay posted for her verdict on ultra high-tech aging in place….
Photo courtesy of BCHG.