Caring Currents
How to Find a Doctor Who Listens - and Cares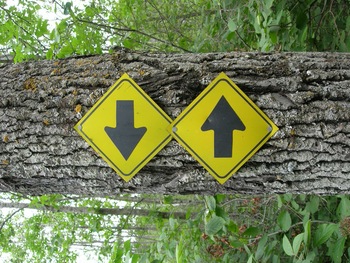 All Rights Reserved
After last week's post on how to break up with your doctor, I received numerous comments and e-mails sharing heartbreaking stories and asking an important follow-up question:
How do I find a good doctor who listens to me, respects my participation as a patient or as a caregiver, and takes a proactive role in caring for my health or the health of my loved one?
Most articles on this subject cover the basics of cost and convenience, so we'll breeze over those. Of course you need to find a doctor whose office is convenient, who's covered in your insurance network or accepts Medicare or Medicaid if you're on it, and who's affiliated with the local hospital you prefer to use.
But there's much much more to it than that. What we want most of all is a doctor who listens, respects what we have to say, and works with us to provide the care that we want. In other words we want someone who realizes that the doctor-patient relationship is a two-way communication channel.
It may seem like a small thing, but surveys show that we also want doctors who aren't in a horrendous rush, who will take a few extra minutes when needed to explain something we don't understand or listen when we describe a complex series of symptoms.
So here are my tips for finding and choosing a truly great doctor.
1. Cast a wide net asking for referrals.
Of course we can ask our family and friends to recommend doctors, but that often doesn't go far enough because they may not have the same insurance or the same health needs. What works better is to use internet bulletin boards and other services to search for a doctor that fulfills your requirements. When my Dad got cancer, for example, I posted on a community bulletin board we have here in the Bay Area asking if anyone could recommend a great oncologist who would be flexible and understanding about my dad's desire to incorporate alternative treatments in his care. Sure enough, I found one who proved to be invaluable; he even referred us to an alternative practitioner who specialized in guided visualizations for cancer patients.
2. Work with the doctors you already know.
You can also work through the doctors you already use for other aspects of your care. For example, if you have an Ob/Gyn you love, ask her which GPs she likes. If your doctor is reluctant to voice opinions about her colleagues, find diplomatic ways to work around that. You might ask, "which doctors do you most often refer patients to?" Or you might say, "I'm considering doctors A, B, and C as my primary care physicians; do you have an opinion?" That leaves your doctor room to say something like "Well, they're all great, but I think Doctor B is someone you'd work well with." And, if, in the course of being treated for various ailments, you find a doctor you really like, don't hesitate to ask if he or she is available as a primary care physician. This is often the most straightforward solution, because you've already "clicked."
Make a "short list".
Once you have a name, don't stop there. Treat the search for a good doctor the way you'd treat the search for a good childcare provider or home care nurse. Get three or four referrals, then call their offices and set up interviews either in person (preferable) or over the phone.
Get around the "not taking new patients" problem.
Many doctors' staff are trained to say this automatically, and this is the response you'll likely hear if you call cold. Instead, make use of any connection you have, even if it's a stretch. If you were referred by a friend who's a patient, use her name. If possible, use another doctor's name, as in "I see Dr. Jones for my back pain and he suggested you as a primary care physician who's experienced with back pain." Yes, flattery has been known to open doors in this situation.
Ask these five questions:
1. How long do you typically spend with patients?
2. How do you feel if a patient brings in articles, studies, or other materials that suggest a certain test or treatment?
3. How do you handle requests for additional tests and diagnostic tools beyond the standard ones? (In this case, it helps to give an example relevant to your own situation. You might say "My mom's had breathing difficulties and I'm wondering what tests you'd recommend beyond blood gas and oxygen." If possible, choose a health area that you're already familiar with, so you'll know if the doctor's suggestions are going as far as you'd like.
4. How do you handle it when patients balk at using a certain drug or treatment?
5. Are you comfortable working with patients who use alternative treatments such as massage, acupuncture, and nutritional supplements?
Put the caregiver issue squarely on the table.
It's ridiculous how hard it can be to be the "third wheel" in the doctor-patient relationship when the patient is a parent or other family member and you're trying to make sure they get the care they need. When interviewing prospective doctors, ask them how well they work with family members in caregiver situations. Get specific; are they willing to take your calls, answer your questions, take your input into account?
Your relationship to your parent's doctor will be different depending on whether you have a medical power of attorney or HIPAA privileges to help you gain access to your family member's health information, but either way it's important to assess whether the doctor is comfortable with the more complex decision-making that can go on when an elderly family member says one thing and a family caregiver offers a different opinion.
If you have suggestions or tips on how to find a good doctor for yourself or an aging family member, please share them. We'd love to hear them!