Caring Currents
Nursing Home Evictions
Last updated: Sep 02, 2008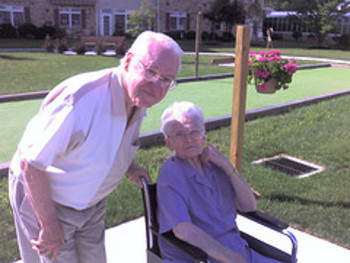 When my 87-year-old father found himself in a nursing home after a hospitalization, the first thing he did was demand his car keys. I had to beg, bargain, and cajole just to get him to agree to stay for the few weeks he needed to heal from a serious infection.
It never crossed my mind that the real problem facing growing numbers of older Americans was just the opposite -- they want and need to be in nursing homes, but those facilities are increasingly evicting them if their care grows too complex or they run through their assets and turn to Medicaid to cover the cost.
According to a recent Wall Street Journal article, across the country "nursing homes are forcing out frail and ill residents." While there's no official count of nursing home evictions, formal complaints about discharge practices have doubled over the past decade, to more than 8,000 a year at last count.
I asked Caring.com housing experts if they had run into this problem. From her files, Nan Hayes pulled this disturbing comment, posted in response to a newspaper article about elder evictions in Washington State:
Having had an insider's look (I've been director of social work for a nursing home and director of activities for an assisted living facility), I can say that was the one thing that bothered me the most. At our management meetings, a large portion was about who was running out of money or insurance and where we could dump them.
Scary stuff, but as with all aspects of senior housing, information is your best defense. The eldercare landscape may be changing, but if you ask the right questions going in, and know all the options, you can make sure your family doesn't become a statistic.
A few places to start:
Last week, I looked at a similar problem -- evictions in assisted living -- and offered suggestions for eviction-proofing your parents. Check them out, as they're equally applicable in a nursing home setting.
In a recent blog post on senior evictions, eldercare attorney Donald D. Vanarelli offers useful advice that also applies to both nursing home and assisted living settings:
Family members should be very careful when dealing with admission personnel in care facilities to be sure that the promises made at the time of admission are later enforceable. Don't believe the glossy marketing materials provided by the assisted living facility; review the assisted living facility's admission agreement closely; ask many questions about the facility's Medicaid policy; put the facility's answers in writing and send the answers to the facility via certified mail.
Caring.com's Nan Hayes weighs in with these tips for covering all the bases in rapidly-changing times:
It's important to calculate your long-term care costs and then -- based on current medical needs and family history -- prepare for the future. For instance, at today's rates, two years of in-home care plus two years of assisted living plus two years of nursing home care would cost about $200,000. If I don't have that in my home equity, then I need to have it in my savings. With inflation, the same services could cost over $900,000 by the time I need them in 32 years. In light of that, long term care insurance could be considered a necessary current investment.
Not everyone can establish savings or rely on equity and insurance plans. Instead they must make the best of the public systems we have. Beneficiaries need to understand the differences between Medicare and Medicaid coverage, investigate state and local housing and voucher plans, read the fine print on housing agreements or anything else they sign, and work with local ombudsman programs and complaint processes if they believe they are being treated unfairly.
The silver lining? If the old status quo -- assisted living and nursing homes -- is looking a little more precarious, the combination of technological advances, human innovation and simple demand means that new solutions crop up seemingly every week -- from aging-in-place "villages" to fully-mechanized "stay at home nursing homes."
Strange as it may seem to think about staffing your parents' condo with robotic caregivers and stocking it with talking pill boxes -- at least you won't have to worry about paper-pushers in a back office looking for ways to move them out when their care gets too costly. In today's rapidly-changing senior housing landscape, there's always a new Plan B just around the corner.
Photo by Fickr user Zepfanman.com under a Creative Commons attribution license.