Caring Currents
Benefits of Hospice
Last updated: Sep 18, 2008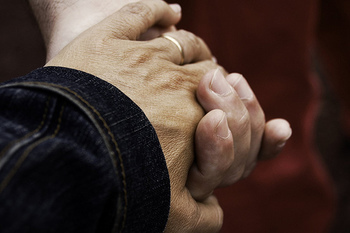 If Caring.com expert Laura Juel has one regret about her own recent caregiving experience, it's that she and her family didn't contact hospice sooner.
As I wrote in last week's post, Juel's mother, who had terminal cancer, suffered a stroke last summer, just weeks after her oncologist concluded there was no point in continuing treatment. But Juel's family had reservations about calling hospice. "To my sisters, hospice meant giving up on my mother and turning on the morphine drip. We just weren't ready for that," Juel recalls.
It's common for families to resist calling in hospice when a loved one is gravely ill. In many cases, the family has been joined in battle for months, even years, to keep the patient alive. Turning to hospice can feel like giving up -- not only on the patient, but also on our own fantasies about cheating death and defying the odds -- at least this time. In many ways, calling hospice represents the first step in letting go.
It was Juel herself who ended up contacting hospice after her mother's primary doctor refused to provide comfort care, and her mother became increasingly uncomfortable and agitated. Hospice representatives immediately arranged for her mother to get the pain relief she needed so she could relax and sleep.
For Juel, one of the most valuable aspects of hospice care was that she and her siblings could call 24 hours a day if they had questions or concerns. "As a caregiver, you have so many questions, and it's such a comfort to be able to reach someone for answers, even if it's the middle of the night," she says.
Juel and her siblings all agreed about their mother's care, but in situations when that's not the case, hospice social workers are willing to step in and mediate, so everyone involved is as comfortable as possible with the  outcome. Hospice representatives will also manage practical details, like making arrangements for the delivery of hospital beds, oxygen, and other supplies, so family members don't have to.
Another reason Juel wishes she'd brought hospice in sooner -- and advises other caretakers to do so, if they can -- is that hospice staff are trained to raise issues about end-of-life care that can be hard for even the closest families to address. Clear, mutual understanding of the patient's wishes concerning how much medical intervention she desires, for example, will prevent disagreements and confusion later on. Says Juel, "If we had discussed these things earlier, I think it would have been easier as we transitioned into the more difficult times of emotional and physical support."
In the end, for Juel and her siblings, calling hospice didn't mean giving up on their mother, but accepting that she was dying and taking steps to make her final days as peaceful and comfortable as possible -- for patient and caregivers alike. Says Juel, "Hospice was a constant throughout those last weeks. Nurses and doctors come and go, but we could always count on hospice to be there to answer the simplest and most challenging questions."
Image by Flickr user Olga Diez (Caliope) under the Creative Commons attribution license.