Caring Currents
Making Homes Safer for Seniors: Talking Points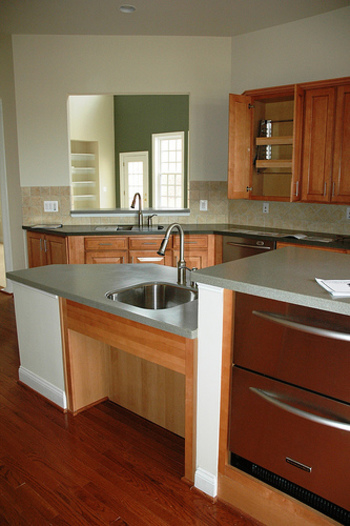 All Rights Reserved
Last week I promised to test-drive one of AARP eldercare expert Elinor Ginzler's strategies for talking to your parents about introducing universal design concepts into their homes.
I tried "Dad, I need your help" on my 87-year-old father, letting him know that although I understood he was doing fine, he could ease my anxious nights by installing a second banister in his two-story condo.
Well, it flopped. He did agree that ,yes, I was a worrier (and maybe I should think about getting some help with that), but other than that, there was no problem. He'd gone up and down those stairs thousands of times without incident, he reminded me. In fact, he had developed "a system."
I had to acknowledge that maybe he was right -- and even if he wasn't, the decision wasn't mine to make. As Ginzler observes, those who talk about "role reversal" or "parenting our parents" have it backwards. No matter how old they get, our parents are still adults, with the right to make their own decisions. What we can do is offer them help, and new information -- and how we offer it may make all the difference.
I may give up on the banister -- or at least give it a rest for a while -- but there are lots of other great universal design concepts I'd like my dad to consider. And when I bring them up, I'm going to try some of the following alternate communications strategies Ginzler recommends:
• Doctor's orders. Talk with your parent's physician about the changes you'd like to see your parent make, and ask the doctor to "prescribe" them. Suggestions like changing door knobs to levers or making sure there are light switches at the top and bottom of the stairs carry a lot more authority when they're written out on a doctor's prescription pad.
• "You won't believe what happened to Mary." Casually tell a story about a co-worker or acquaintance whose mother refused her entreaties to install a grab bar in the bathroom. Just last week the mother fell and is now in the hospital with a broken hip. Hearing that story inspired you to pick up this catalogue of snazzy and potentially life-saving grab bars....
• Share the dream (home). The beauty of universal design is just that -- done right, it really can be quite beautiful. If your parents have the means and inclination to remodel the kitchen, mention how gorgeous those marble countertops would look at a couple of different levels -- that way the grandchildren could help with dinner, and grandma could sit and chop, too, if she felt like it. To introduce them to the concept of the open shower, bring over a DVD of Casino Royale, which features James Bond comforting a guilt-stricken double agent inside this universal design staple. Once they see a hunky Daniel Craig hunker down in a spacious open shower with dreamy Eva Green, the fact that it's wheelchair-accessible may not seem so off-putting.
Here's another great suggestion, just in from Caring.com reader Bell star, who chimed in after reading last week's post:
• Make your home 'visit-able'. If we expect our parents to change their home to follow universal design, we should do the same in our homes. Not only will it make our homes accessible for our parents, it will also make it ready for the moment when we have an accident or injury and need things accessible for ourselves. Have you considered what it's like for your parents to visit your house? Is the bathroom fully accessible? How many steps are there to get into your home? Etc., etc. All of us will someday need these changes in our own homes -- much as I did several years ago when I suddenly had medical problems and found myself living on the first floor of our two-story home....So we'd all do good by implementing universal design in our own homes.
Ginzler believes we're at a "tipping point" when it comes to universal design -- that the coming "age boom," combined with the determination of the great majority of seniors and baby boomers to remain in their homes, means the principles of universal design will soon be mainstream.
If and when that happens, the "talking points" above may well be obsolete -- our kids won't need to talk us into making renovations because we'll already be aging in place (and in peace) in homes that anticipate our changing needs.
Until then, however, these common-sense suggestions are worth a try -- or two.
Image courtesy of Greater Prince William Coalition on Housing and Universal Design.