Caring Currents
Last-minute Gifts to Keep Elders Safe at Home
Last updated: Dec 23, 2008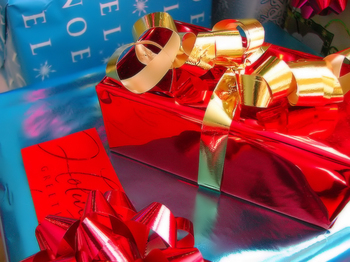 Do you remember, as a child, ripping the shiny paper off a tempting-looking gift under the tree, only to find something "useful" -- socks, underwear, a piece of important literature that your parents had always wanted you to read?
In my family, the "for your own good" gift is a time-honored tradition -- just last year, my 82-year-old mother re-organized my kitchen cabinets for Christmas (thanks, Mom -- now where the heck is the colander?).
Well, folks, now's the time to return the favor -- the perfect season to give aging relatives something they don't necessarily want but that you really think they ought to have.
I'm assuming (ahem) that you've already done all your real Christmas shopping by now, but it's never too late to slip a handmade certificate or last minute print-out for an online order under the tree.
If you have aging-in-place parents like mine, then home safety is likely high on your list of "for their own good." Perhaps you've been suggesting for years that they set up a Personal Emergency Response System , but they're too embarrassed to order that "Are You OK" pendant. In that case, a carefully selected piece of jewelry may be just the ticket this Christmas. Here are a few other "useful" last-minute gifts worth considering if you have older relatives who live on their own:
A consultation from a Certified Aging-in-Place Specialist. If you can find someone familiar with the principles of  Universal Design , all the better. You probably can't offer to foot the bill for the renovations yourself -- and if your relatives are like the rest of the financially-strapped nation, they may not be ready to take on major expenditures just now -- but at least they'll have a blueprint to start from if they do feel ready to make larger safety improvements down the line, and they'll get tips for smaller steps they can take right away.
A visit, or series of visits, from a cleaning service. As folks get older, they may keep the house as tidy as ever but find it hard to keep up with the heavy lifting when it comes to deep cleaning. A clean home improves both physical and mental health and is perfect for gift-giving -- they might consider paying for it themselves too indulgent, but they'll love the results. Nothing beats a sparkling-clean home, especially after the chaos of the holidays.
A home monitoring system , such as GrandCare or QuietCare. OK, you're walking out on a limb here -- these are pricey, and you run the risk of offending the recipients by implying they need watching over. But if you're truly worried about the safety of aging-in-place seniors, then maybe it's worth risking a Christmas morning flare-up. Explain that your greatest concerns are their safety and their independence, and that you bought the system because you share their goal of keeping them in their home as long as possible. (But just in case, keep the receipt).