Caring Currents
It Takes a Neighborhood: Epilogue
Last updated: Oct 31, 2008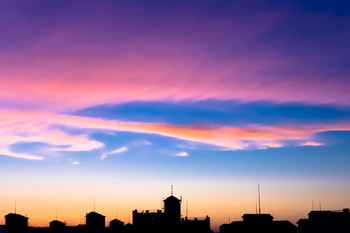 Last spring I wrote about two San Francisco women, Randi Myrseth and Michele Mason, who were taking care of Herbert Anderson (Andy), their elderly neighbor. Randi and Michele began helping Andy eight years ago, after a mugger attacked Andy's wife, knocking her to the ground and fracturing her hip. Andy's wife died of cancer a year later, leaving him alone and in shaky health. Randi and Michele promised Andy they would take care of him until he died, so he wouldn't have to go into a nursing home. 
They kept their promise. Andy died last June in his own bed, in the home where he'd grown up. He was 89-years-old.
I caught up with Michele recently to talk about what it was like caring for Andy during his last months of life, and what she'd learned from her caregiving experience.
According to Michele, Andy never regained mobility after he fell and broke his own hip last fall. During that time, his dementia grew worse, and so did his general health. Still, Michele says he kept up his signature one-liners ("When in doubt, punch out," was a favorite), and cracked jokes. "Andy was always trying to find the joy in life and make you laugh," she says.
By that point, Andy had a home health aid, but Michele and Randi visted every day, and gave him foot massages, or read the sports page aloud to him. He also liked them to read a book Michele had made for him: a compilation of stories he'd told her about his life that he wanted to hear over and over. "The stories allowed him to review his life and reminded him of all the wonderful times and memories he had," says Michele. "It felt like a wonderful gift to give him at the end of his life."
Andy's story is instructive for those of us who have elderly neighbors -- people we rush by every day on our way to work, or say hi to when we pass on the street. We may not be able to do as much as Michele and Randi did for Andy, but maybe Mrs. Smith down the block could use an occasional hot meal, or help cleaning out the gutters before the rains begin, or just a visit on a lonely afternoon.
If you have an elderly neighbor who needs ongoing help, Michele recommends enlisting other neighbors as well. "We went door-to-door and asked people if they'd be willing to bring Andy a meal one day a week. We were amazed by how much people wanted to help."
Michele also recommends involving your children, if you can. "I'd ask my kids to take Andy his dinner, or sit with him and watch the ballgame. It was as much for them as for him. I wanted them to know an older person, because there are so few opportunities for kids to do that these days. And I wanted them to see neighbors helping neighbors, so they'll do the same when they're adults."
Although Randi and Michele acknowledge that caring for Andy was difficult at times, they emphasize how much it added to their lives. 
In the end, Andy died with the same dignity and generosity of spirit that had infused his life. Two weeks before his death, he asked his home health aid to help him write a letter of thanks to Michele and Randi. "In the letter, he told us how grateful he was and thanked us for all we'd done for him," says Michele. "That seems to me a remarkable thing to do on your deathbed. He wasn't just thinking about himself. He took the time to say thank you."
Image by Flickr user Coco n Friends, Used under the Creative Commons Attribution license.