Caring Currents
Plastic and Cancer: How Big a Risk, Really?
Last updated: Oct 22, 2008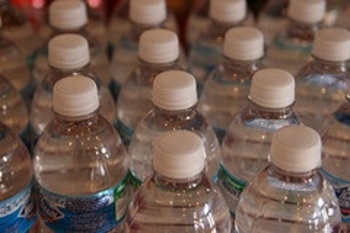 After weeks of headlines, it seems like I'm not the only one confused about how seriously to take the concern over health risks from plastic.
According to some toxicology experts, water bottles made of hard, clear plastic that contain Bisphenol A, otherwise known as BPA, may be dangerous. A number of animal studies have shown that BPA can be absorbed into the tissues, increasing the risk of prostate growth in men, a risk factor for prostate cancer. Some studies have linked BPA to early onset of puberty and breast development in girls, a breast cancer risk factor.
Yesterday, the Canadian government banned baby bottles containing BPA. Here in the U.S., the FDA has been in the process since April of reviewing the safety of BPA. They haven't released any recommendations yet but will take the topic up again next week. Meanwhile, the National Toxicology Program has waffled, first releasing a draft report in April that expressed concern about BPA, then downgrading the terminology to "minimal" concern in an advisory panel recommendation in June. (Needless to say, the plastics industry and big grocery chains have been active in defending BPA, for reasons of cost and convenience.)
Among other studies, the Canadian government was reacting to a report in the September issue of the Journal of the American Medical Association linking BPA to a number of serious health issues, including liver enzyme abnormalities and cardiovascular health.
Of course we want to do right by those we cook for and take care of, so what to do? Now that BPA-free water bottles are available, I personally will use them, and toss the old ones.
But that's not all: The focus on BPA and other chemicals in plastic has revived additional controversies even closer to the hearts of those of us caring for people with cancer.
In other words, what about all those stories about it being dangerous to store food in plastic, then freeze or heat it? 
For years, experts have been calling such rumors a hoax. But now they're not sounding so certain. In September, an FDA advisory committee released some tentative recommendations suggesting consumers reduce exposure to BPA by
Avoiding plastic containers showing the number 7 in the recycling symbol
Not heating up food (in a microwave, for example) in such containers because heat increases the release of BPA in the plastic
I think of all the times during my dad's battle with esophageal cancer that I prepared a big stew or casserole for him, packaged it up neatly in little individual plastic containers, and left them for him instructing him to microwave each one. What if doing so upped his cancer risk?
In the future, I'll follow the recommendations from experts at some of the leading cancer centers:
Use only containers specifically labeled as microwave-safe
Don't microwave carry-out containers from restaurants or other plastic containers, such as yogurt and margarine tubs
Don't reuse containers made to hold a microwaveable meal, because they're designed for one-time use
Cover food with glass or ceramic covers, microwave-safe plastic wraps, wax or parchment paper, or white microwave-safe paper towels
Even when using Microwave-safe plastic wrap, don't let it directly touch the food
Don't use plastic grocery bags or plastic storage bags in the microwave
In this fast-changing story, stay tuned for future developments.
Image by Flickr user Quinnanya used under the Creative Commons Attribution License.