Caring Currents
How To Barbecue the Healthy Way
Last updated: Jul 15, 2009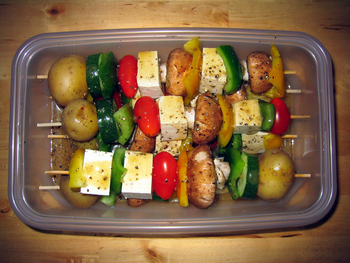 After posting last week about the latest studies linking red meat and processed meat with cancer risk, I felt a little bit guilty about putting a damper on the fun of summer barbecues. Isn't there a way we can enjoy the time-honored tradition of grilling without worrying about our health? Apparently, I'm not the only one thinking about this; the M.D. Anderson Cancer Center published an excellent and timely report on the subject, chock full of healthy advice.
Here, in my opinion, are the best tips from M.D. Anderson nutritionist Vicki Piper, plus a few of my own:
"¢ Grill fish or skinless chicken instead of red meat
"¢ Grill vegetables such as onions, zucchini and yellow squash, mushrooms, asparagus, and eggplant
"¢ Coat veggies lightly in olive or canola oil to keep them from sticking and enhance flavor
"¢ Sprinkle vegetables with pepper, salt, and vinegar to bring out their flavor
"¢ Skip the hot dogs -- processed meats, like hot dogs, have the highest cancer risk
"¢ Don't make meat the centerpiece of a meal, but add it as an accent, such as in shish kabobs
"¢ Keep meat portions small by cutting them in chunks and trimming away fat (fat seems to be a primary source of cancer risk)
"¢ Choose lean cuts of meat such as beef or pork tenderloin or lean round steaks
"¢ If you can't resist hamburgers, choose ground beef that's at least 95 percent lean; 98 or 99 percent lean's even better
Since charring and burning increase the chemicals that cause cancer, do everything you can to prevent blackening meat. Follow these five easy steps:
Marinate meat ahead of time; it keeps meat moist and draws out the chemicals that become carcinogenic when cooked
Precook meat for five minutes ahead of time indoors, to reduce the chemicals that cause cancer
Use lower heat by increasing the distance between the meat and the hot coals
Spread aluminum foil on the grill to prevent flare-ups
Flip meat frequently, to prevent burning or charring the outside
Finally, once you're in the swing of your grill-fest, relax and enjoy. After all, stress is a cancer risk too, and one of the best antidotes to stress I can think of is an evening in the backyard under a starry sky with friends and family. If you have healthy barbecue tips or recipes, please share!