Caring Currents
For Seniors, Taking Care of Minor Health Matters Makes a Major Difference
Last updated: Nov 27, 2008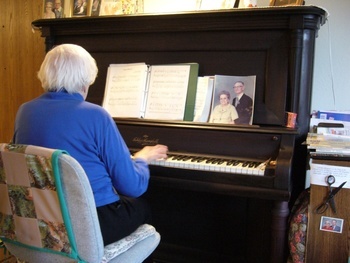 It seems apt today, when we take a collective moment to give thanks, to hear a caregiver named Tracy express her gratitude to the doctor who helped her mom.
Tracy's mother doesn't have cancer or dementia. No potentially life-threatening ailment features in this story. But as you'll see, for many older adults, taking care of the small stuff can have a big impact on quality of life.
Here's what happened: Tracy's 79-year-old mom, who lives near Spokane, Washington, experienced some short-term memory loss when her husband of 55 years passed away. Tracy figured it was a result of the understandable grief that accompanies the death of a loved one. But with time, her mom's memory didn't improve. She couldn't, for example, tell her daughter what she'd done that day. Tracy knew something wasn't right.
Tracy's sister found a geriatrician both daughters liked the sound of, and her mother, a former medical technician, reluctantly agreed to go for a checkup with the physician, who specializes in care for the elderly. From the get go, Tracy liked how the visit played out. "He made it very clear that my mother was his patient. He really spoke to her -- not to me," she says. "That was important to both of us."
He was thorough, respectful, and kind. He listened. And he encouraged Tracy's mother to make her own decisions, including whether to take a cognitive test. "At that point I stepped out of the room," Tracy recalls. "I could tell my mom was embarrassed about it -- not with the doctor, but with me." She took the test.
In a follow-up visit, Tracy and her mom learned she aced the cognitive test, with the exception of the short-term memory portion. An MRI ruled out anything outside of normal aging. A blood test did reveal she had very low levels of Vitamin D, which could affect memory. At the end of the appointment the doctor said: "Here are the things I'd recommend for now. Would you be willing to do those?" As Tracy notes, " It was just a simple matter of how he phrased things, but it made a world of difference to my mother. It felt like her choice."
The doc suggested a supplement to address her vitamin D deficiency and a medication that can help maintain memory. He recommended exercises and hydration with an electrolyte drink to help ease the cramping in the hands of this life-long piano player. He advocated walking for exercise and reviewed existing medications for high blood pressure and osteoporosis. He was savvy about insurance and Medicare quirks and helped them navigate this territory.
And yet, the way Tracy saw it, the doctor didn't focus on disease or illness. Instead, he addressed her mom's whole life, including her living situation. Tracy thought her mother should consider moving out of a big home that was getting harder for her to maintain. The geriatrician took a different tack. "Let's look five years down the road and have you think about a plan," he said. "Is this house something you'll still want then? You don't want to get forced to make a decision in a hurry if events overtake you." Tracy's mom liked his style.
As for the little things: In that first doctor's visit, Tracy raised the issue of hearing loss. Her mother, she said, had to lean right into you to converse in a coffee shop. Has anyone, the doc asked, checked her mom's ears? No. So he did. Tracy and her mother were floored by how much earwax he extracted -- both ears were totally blocked.
After that simple procedure the two went for lunch where, for the first time in years, Tracy's mom was able to sit back, relax, enjoy her meal, her daughter's company, and the easy flow of conversation.
Needless to say, Tracy's mom is a convert to an elder-friendly physician.
Does this tale ring any bells for you? I'd like to hear how taking care of a routine health matter has improved your family member's quality of life.
Photo by Flickr user kafka4prez used under the Creative Commons Attribution license.