Caring Currents
Surprising News About Who's Happiest
Last updated: Apr 24, 2008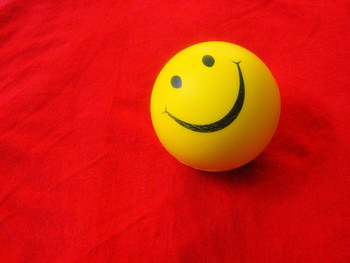 It's natural to see parents, grandparents, and other aging loved ones as enduring a season of loss: social losses as their friends move away or pass away; the loss of physical strength; the loss of independence when they can no longer drive or live alone. Now factor in this surprise: They may be a lot happier than you think.
They may even be happier than you!
There are some sterotype-blowing findings in April's American Sociological Review, from a University of Chicago sociologist who periodically interviewed a sampling of 28,000 people (ages 18 to 88) over more than 30 years:
The odds of being happy increase 5 percent with every 10 years of age
More 88-year-olds report being "very happy" than do 18-year-olds (which calls to mind that line from Capra's 'It's a Wonderful Life," "Youth is wasted on the wrong people!")
The least happy people of all? Baby boomers.
What gives? The researcher doesn't say.
Could it be that older people have more social connectedness than we give them credit for (other studies show that things like religion, volunteering, and just visiting neighbors add to happiness)? Or have different values that bring greater contentment? Or have fewer responsibilities and more time to contemplate the meaning of life?
Could it be that younger people are too stressed to have time to be happy? Or are too materialistic and competitive? Or are too tired to appreciate what we have?
Whatever the reasons, it's an insight to make note of -- and better still, to look forward to.
Image by Flickr user McGun used under the Creative Commons attribution license.