Caring Currents
Know Thy Father: A Guide to Dad's Day
Last updated: Jun 15, 2016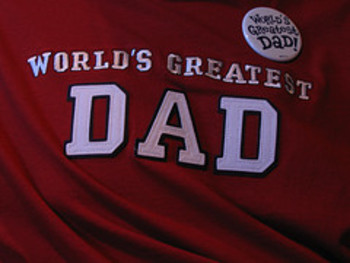 Recently, I suggested buying your dad a home blood pressure monitor for a Father's Day gift (if he has high blood pressure). A perfect present for some dads, but others would see it as an insult: "Get off my back already about my health -- jeez!"
Gift giving is tricky business, and is it just me, or is it particularly tough when you're trying to find something for an older man? It evokes images of unused ties, socks, wallets, and cuff links (does anyone wear these anymore?) stuffed deep into drawers.
But here it is almost Father's Day, and even though it's hard shopping for older dads, the urge to honor them -- just to honor them -- seems to grow with time.
I've decided the best approach is to "Know Thy Father." Forget about all the advertisements. What really matters to your dad? What perks him up and touches his heart?
Consider some different dad types and the gifts they might like:
Utter nonmaterialist: Sweet and simple -- it's the gesture that counts. Card, single flower, used book, home-baked cookies, art from grandkids, family photo.
The materialist: Go for it! What excites him? Ipod, laptop, French cologne, pen set, silky bath robe, shiny BBQ tools, and, OK, even cuff links.
Big goof: What makes him laugh? Maybe it's a silly T-shirt or hat, gag gifts like a whoopee cushion (you can find these on-line), musical card, or e-greeting. Take him out to see a comedy or rent one to watch together.
Social Beast: Big meal with the whole family, day of visitors, ballgame with the grandkids, night on the town.
Shy and Quiet: Ask him what he's up for. Afternoon tea, a low-key meal, movie, or stroll. Books or a magazine subscription.
Food Hound: Men like chocolate, too. Especially if there's family or nursing home staff to share with. Basket of fruit, meal at his favorite restaurant, mail order steaks, or fancy cheese and crackers.
In His Own World: Just be there with him. Hold his hand, rub his shoulders, read to him, and check out this post from fellow blogger Paula Spencer.
Anything to add? Even as I write this, I don't have a clue yet what I'm going to do for my 80-something dad, who fits several of these categories, but mainly the first. But I look forward to doing something, even small, because, well, any excuse to honor my dad at this stage of the game feels good to me. And I sense, to him as well.
Image by Flickr user silfverduk used under the Creative Commons licencing agreement.