Caring Currents
National Grandparents Day September 7: A Day to Reach Out to All Elderly
Last updated: Sep 01, 2008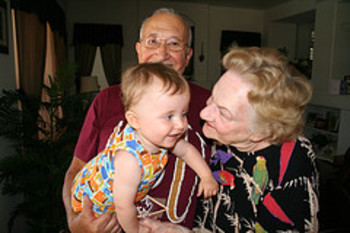 True confession: I'm not a big fan of proclamation days honoring this or that thing, event, or person. So it is with some skepticism that I greet National Grandparents Day, September 7. (Yet another way for greeting card, flower, and chocolate companies to make a few bucks.)
True confession: I'm sentimental and often fall for proclamation days honoring this or that thing, event, or person when it touches me in a genuine way. I won't be lifting a finger for National Meatloaf Day (October 18), National YoYo Day (June 6), or National Pickle Day (November 14).
But grandparents? Got me. Just last week I wrote in this space about my grandmother's vision loss, stirring all kinds of memories of this sassy woman who died years ago. It's a special relationship to be a grandchild. Not nearly as loaded as being a child; kind of once-removed from parental rules and expectations. Yet still marked by an older-younger connection, kinship, the passing of generations.
I was even more moved when I learned the origins of Grandparents Day. The idea was conceived in 1970 by a West Virginia "housewife" who wanted to "champion the cause of lonely elderly in nursing homes." It branched out to include all the elderly and was officially declared a national day by President Jimmy Carter in 1978.
A day to reach out to our elderly makes sense. Grandparents Day may have even greater meaning for people caring for their grandparents on a daily basis, which I know includes many Caring.com visitors.
Some of us even care for our parents and grandparents at the same time. Just yesterday, I ran into a friend who did this for years, running back and forth between her mom's and grandma's nursing homes. Talk about the sandwich generation! Add grandparents to the mix and look what you've got: a club sandwich of stress, worry, errands, and, hopefully, joy. (Is there a National Grandchild Day? If not, I'm officially proposing it here and now.)
Truth is, I miss the grandmotherly-grandfatherly touch. I'm quite sure my dad doesn't have a clue what day September 7 is (besides a Sunday). I think I'll round up my kids to surprise him with a Grandparents Day phone call or visit (or yes, even a card). Sure, it's kind of corny. But hey, there's nothing wrong with corny if it brings an extra dash of cheer on what would otherwise be an ordinary day.
Photo by Fickr user Jason de Rushaunder a Creative Commons attribution license.